Beamery is designed as a collaborative platform for you and your team, which means you will receive notifications when your colleagues have tagged you in candidate profile notes and comments.
---
Notifications Feed
You will receive a notification each time you are @mentiond in a note, assigned a task or assigned contacts.
All notifications can be accessed by clicking on the 'bell' icon located at the bottom of the left-hand sidebar. You will see a red number appear on the bell symbol when you have a new notification.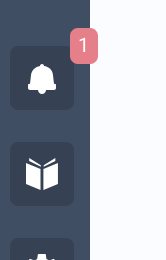 By clicking on the notifications 'bell' icon, you will see a feed of your notifications listed in order of recency, with the most recent at the top. You can click on a candidate's name in a notification to open their Profile.

---
In Summary...
Beamery makes it simple to collaborate with colleagues in Beamery, with easy-to-use @mentions and notifications.