Beamery helps your team become more productive with in-app Tasks. You can create tasks for yourself or assign one to a colleague. Tasks can be directly related to a candidate, talent pool or vacancy.
---
Table of Contents
Your Tasks Dashboard
Create a Task Linked to a Pool or Vacancy
Create a Task Linked to a Candidate
---
Your Tasks Dashboard
To navigate to your Tasks Dashboard click on Tasks from the navigation bar.


The Tasks Dashboard will show all of the tasks assigned to you, as well as quick access to all candidates, pools and vacancies that you own or have been shared with you.
Your Tasks list is split into three types of tasks:
Overdue tasks
Tasks due today
Upcoming tasks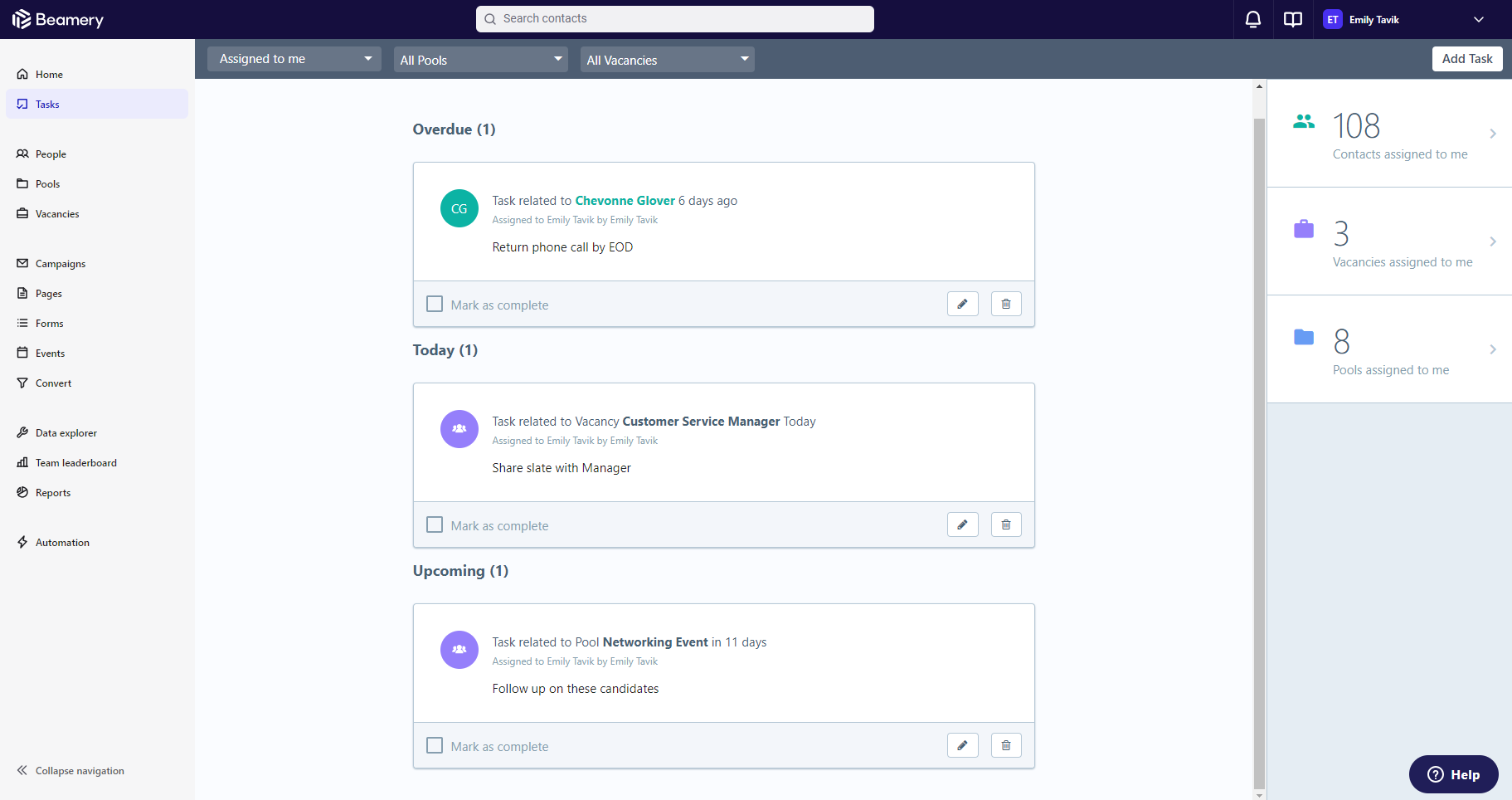 Below is an overview of the Tasks dashboard and the various navigations.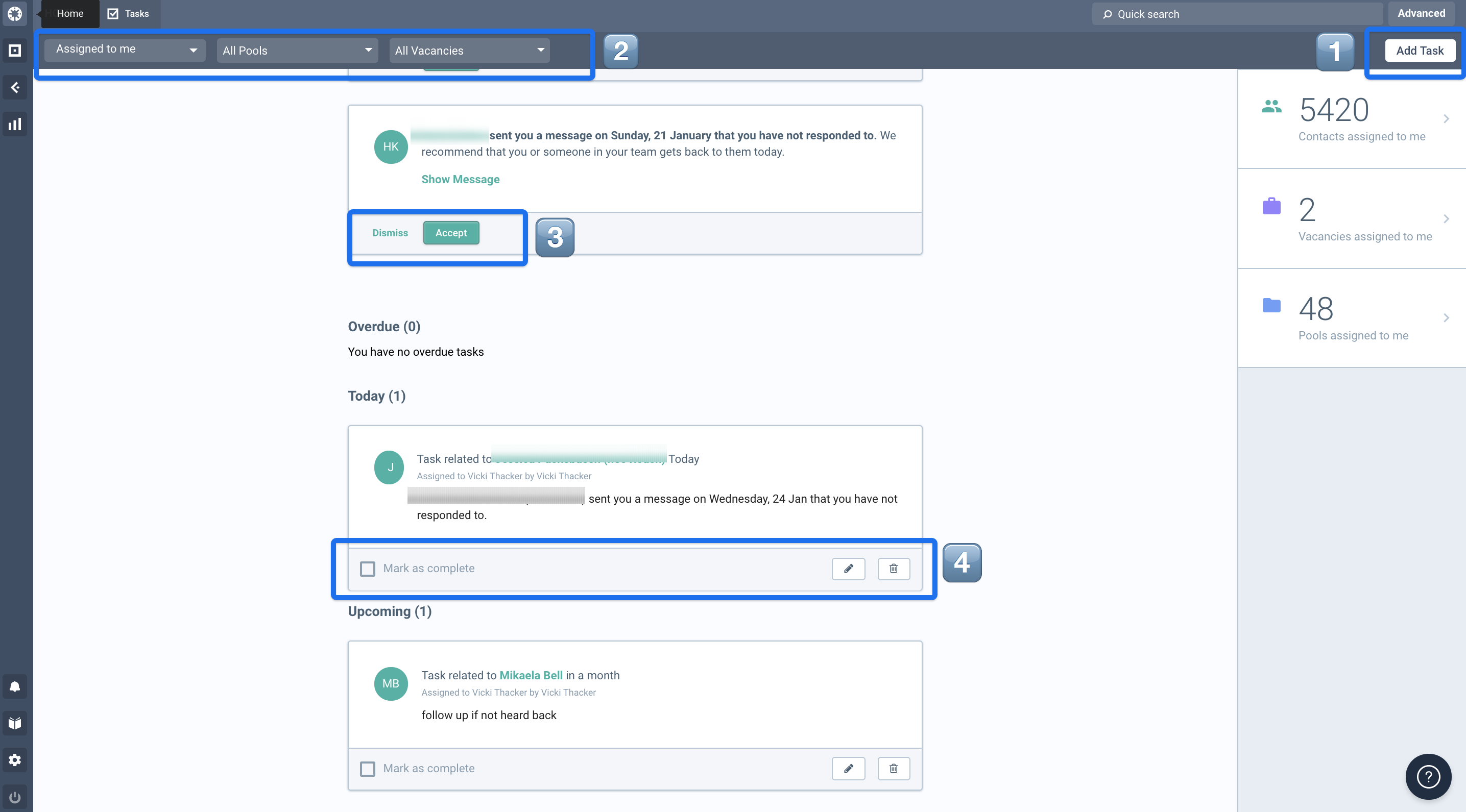 Add Task button: Click here to create a new task as a reminder for yourself or to assign a task to another Beamery user.
Filter bar: the options in this bar allow you to filter the tasks displayed by the Assigned User or the Vacancy or Pool to which they relate.
Suggested Tasks: Beamery will offer suggested tasks based on your activities. You can choose to accept the suggested task and move it to your upcoming task list or you may opt to dismiss the suggestion.
Edit, Complete or Delete:these options allow you to edit or delete the task or mark it as completed.

Ticking the "Mark as complete" box removes the task from your list. You can report on how many tasks a user has completed.
Edit a task by clicking on the pencil icon. This will take you back to the "Create Task" window where you can amend the task's details
Delete a task by clicking on the bin icon.
---
Create a Task Linked to a Pool or Vacancy
To help you further collaborate with colleagues, you can create a task associated with a particular Pool or Vacancy. For example, you may want to ask a hiring manager to review candidates in a pool or work with a colleague to help source candidates for an open role.
To create a task, navigate to your tasks dashboard. Click on the add task button at the top right of your dashboard.
A create task modal will open. Begin filling out the task description, select a user from the Assigned User dropdown to assign the task, and set the due date for the task.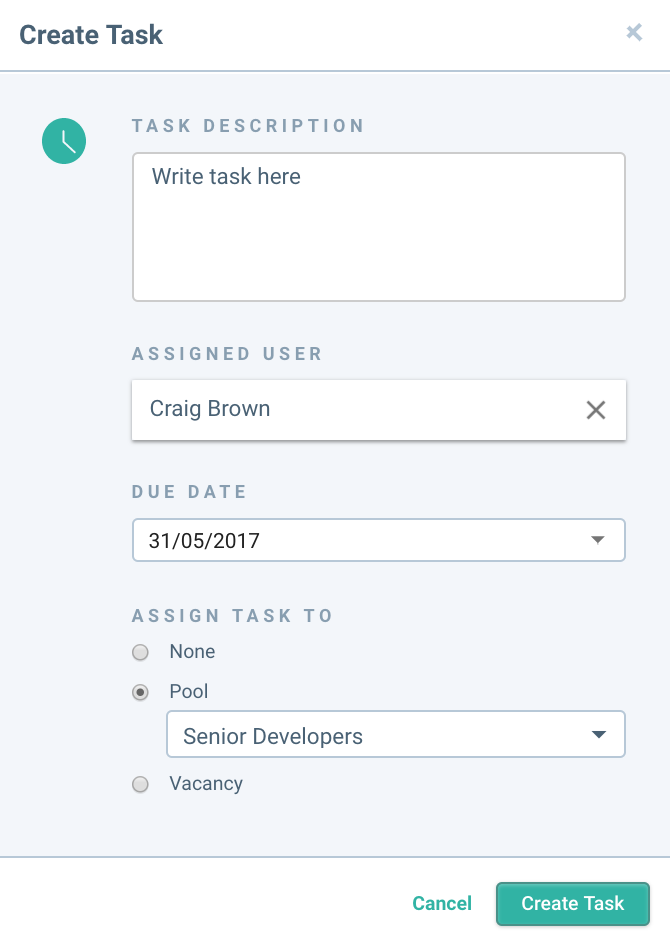 Then, assign the task to a pool or vacancy by selecting Pool or Vacancy from the Assign Task to list. When you select Pool or Vacancy a dropdown will appear allowing you to choose a specific Pool or Vacancy to assign the task to. Alternatively, select none if you wish to create a task that is not assigned to a pool or vacancy.
Once done, click Create Task. The task will appear in your dashboard if assigned to you. A task that you have assigned to another team member will appear in their Tasks Dashboard.
---
Create a Task Linked to a Candidate
You can also create tasks associated with a particular candidate in your database. Candidate tasks are useful when collaborating with team members to review candidate profiles for open roles, or when sourcing new candidates to build up your pipelines.
To create a candidate task, navigate to a contact whom you wish to associate a task with. You can find candidates in your CRM, in a talent pool or vacancy by using filters. Alternatively, search for the candidate by typing in the name in quick search at the top right of your screen.
Within the candidate's profile, select the "+" sign and click the "New Task" option. A "Create Task" window will appear. Fill in the task description, assign it to a user and select a due date.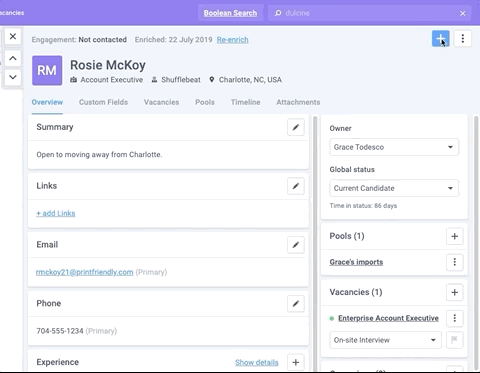 The task will immediately appear in the candidate's Timeline. You can complete the task from the candidate's Timeline by selecting the three dots on the activity and clicking "Mark as complete". You will also have the option to edit or delete a task.