Historically, the confidential nature of Executive Search and other specialty recruiting functions has meant that teams with these responsibilities have not been able to share the same digital workspaces as their more generalized peers. Beamery's Executive Search feature set eliminates that division, allowing specialty recruiters to take advantage of the benefits of an integrated CRM and talent marketing platform.
Note: Executive Search is an add-on feature set, so some of the capabilities mentioned below are not accessible to all users. Reach out to your Customer Success Manager if you would like to add Executive Search to your Beamery package.
---
Table of Contents
How does Executive Search Work?
How to Use Confidential Profiles
Executive Search Best Practices
---
How Does Executive Search Work?
Executive Search includes several features that allow executive recruiting and specialty teams to keep their candidates and workspaces confidential while referencing the data they need to make connections with candidates.
This allows specialty teams to search within their organization's existing database of warm talent using filtering and Boolean search, and take advantage of features like automatic profile enrichment and talent marketing through Campaigns, Pages, and Forms.
First and foremost among Executive Search features is the ability to mark contact profiles as confidential or mark them confidential and make them only visible to specific users or teams. This is explored in detail, below.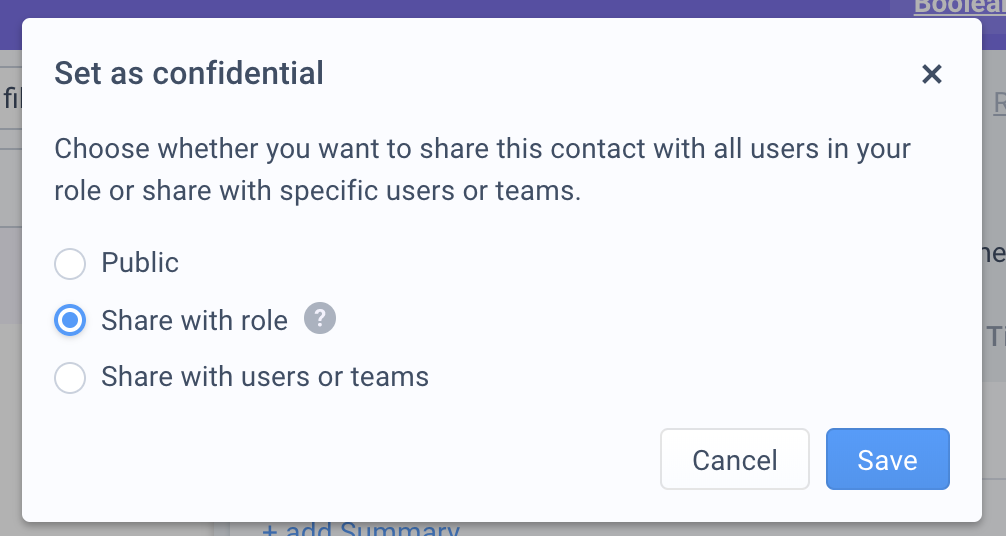 Profile confidentiality is paired with a user role specific to Executive Search, called a Sourcing Confidential user. Souring Confidential users and Super Admin users are the only roles that can see confidential profiles. Super Admin users can view all confidential contacts, while Sourcing Confidential users can view only confidential contacts that have been shared with them.
Executive Search also includes the ability to map relationships between contacts in your database using Related Profiles. While this is particularly helpful to teams working with specialty candidates, this feature can be utilized by users with all role permissions. Related profiles are explored in detail in this article.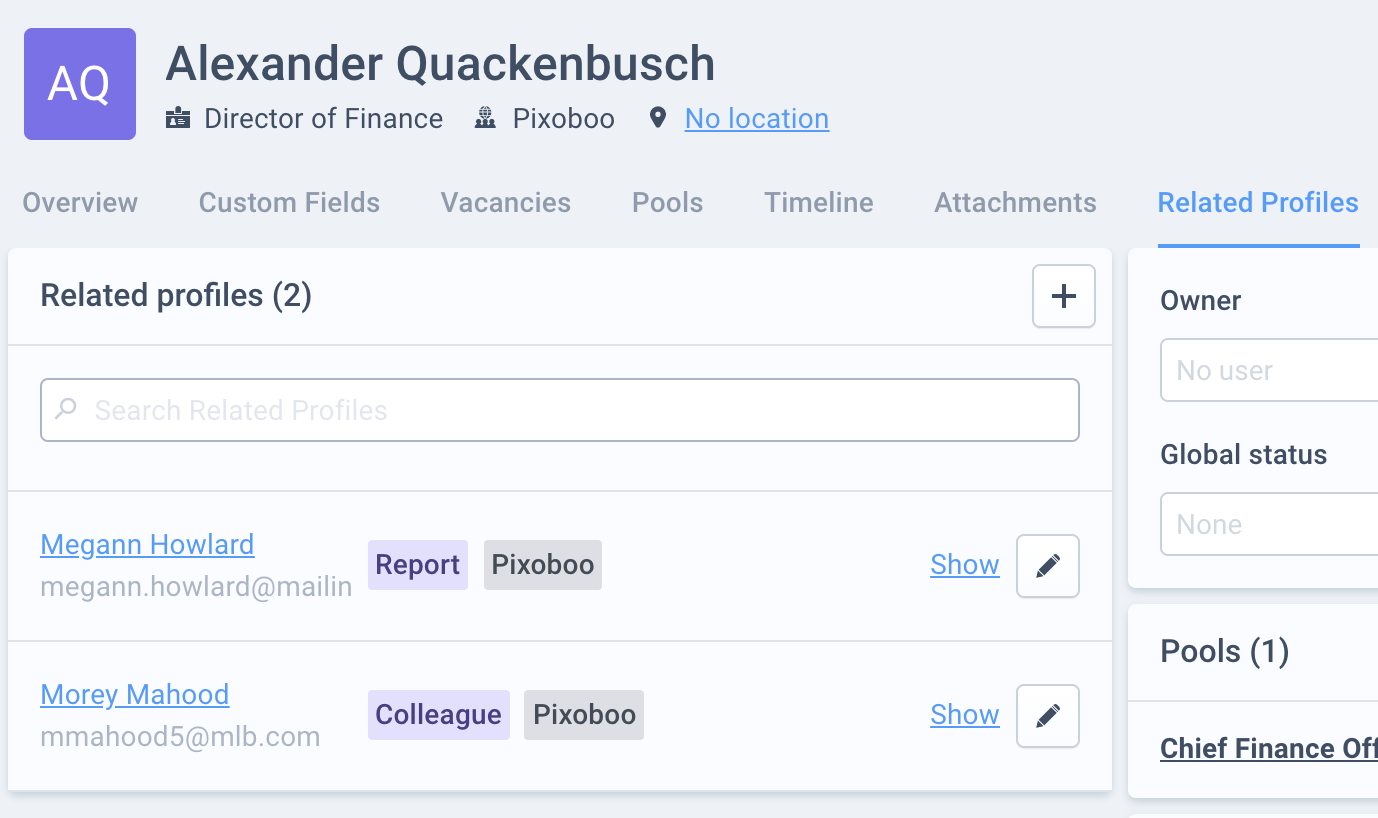 Another Executive Search feature available to all user types is the Sourcing pool type. This pool type is intended to help screen candidates before they are added to a Vacancy for active consideration for an open role, using the Pool Steps: Lead, Passive, Interested, Engaged, Screening, Qualified, Rejected, Unsuitable.
If the Pool Steps in the Sourcing Pool do not meet your organization's needs, you can request a custom Pool type with custom Pool Steps by contacting your CSM. When contacting your CSM, let them know the name you would like your custom Pool type to have, and the custom Pool Steps you would like to have it include.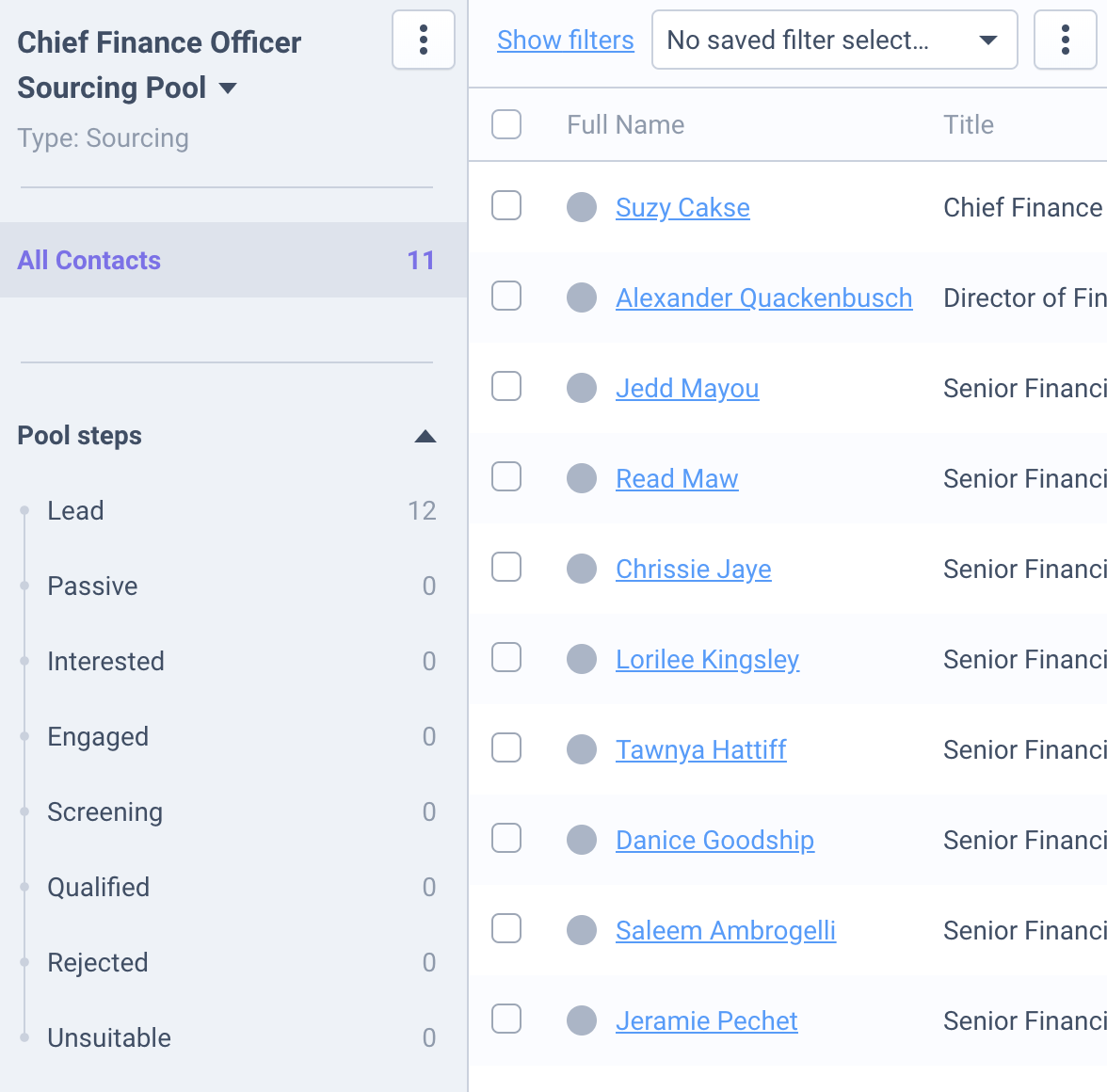 ---
How to Use Confidential Profiles
Confidential users can mark existing profiles as confidential, or add their own candidates and immediately mark them confidential either manually. Admins can also set up Recipes that mark certain candidates as confidential automatically.
Confidential profiles are not visible to general users in the People grid of the CRM, in Campaign Analytics lists or in search results. However, they can be found and seen in those places by Sourcing Confidential and Super Admin users.
To mark a profile as confidential, open it, then click on the three dots button in the upper right corner and select "Set as confidential".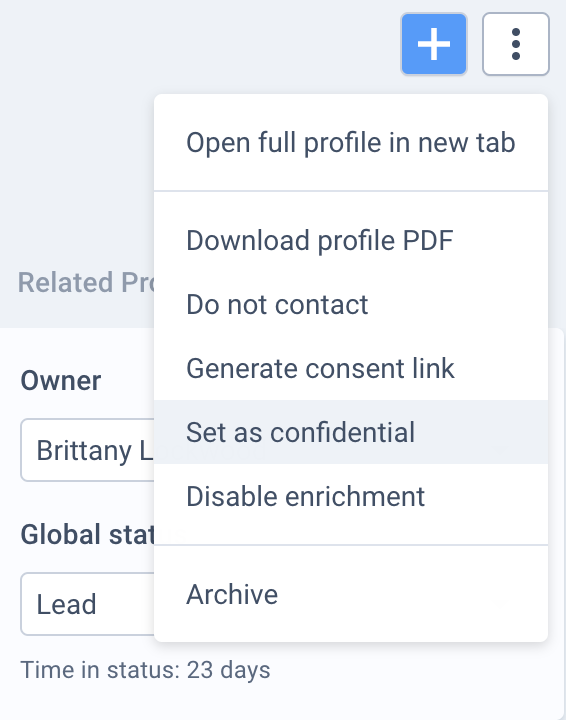 In the pop-up window that appears, you have the option to keep or set the profile as Public, making it visible to all Beamery users.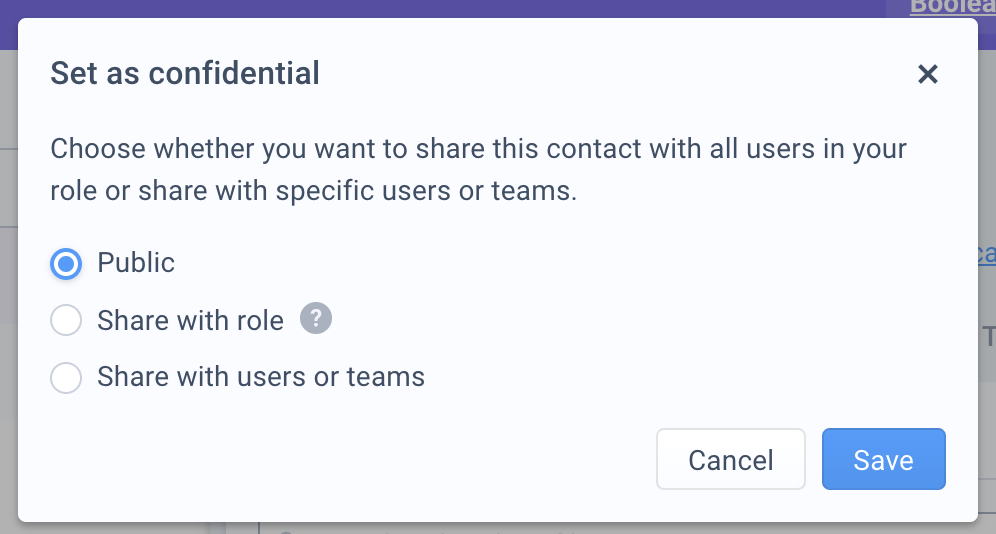 Or you can select "Share with role", meaning only other users with Sourcing Confidential or Super Admin role permissions will be able to see the profile.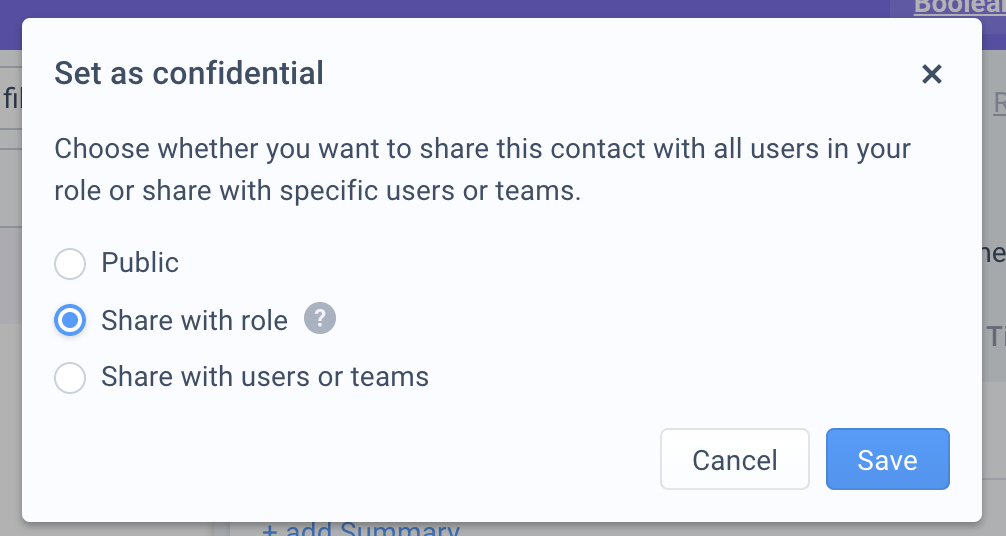 Lastly, you can choose "Share with users or teams". This will set the profile as Confidential and make it only visible to the specific users and teams you select (what can be referred to as "super confidential"). Note that all Super Admin users will also be able to view these profiles.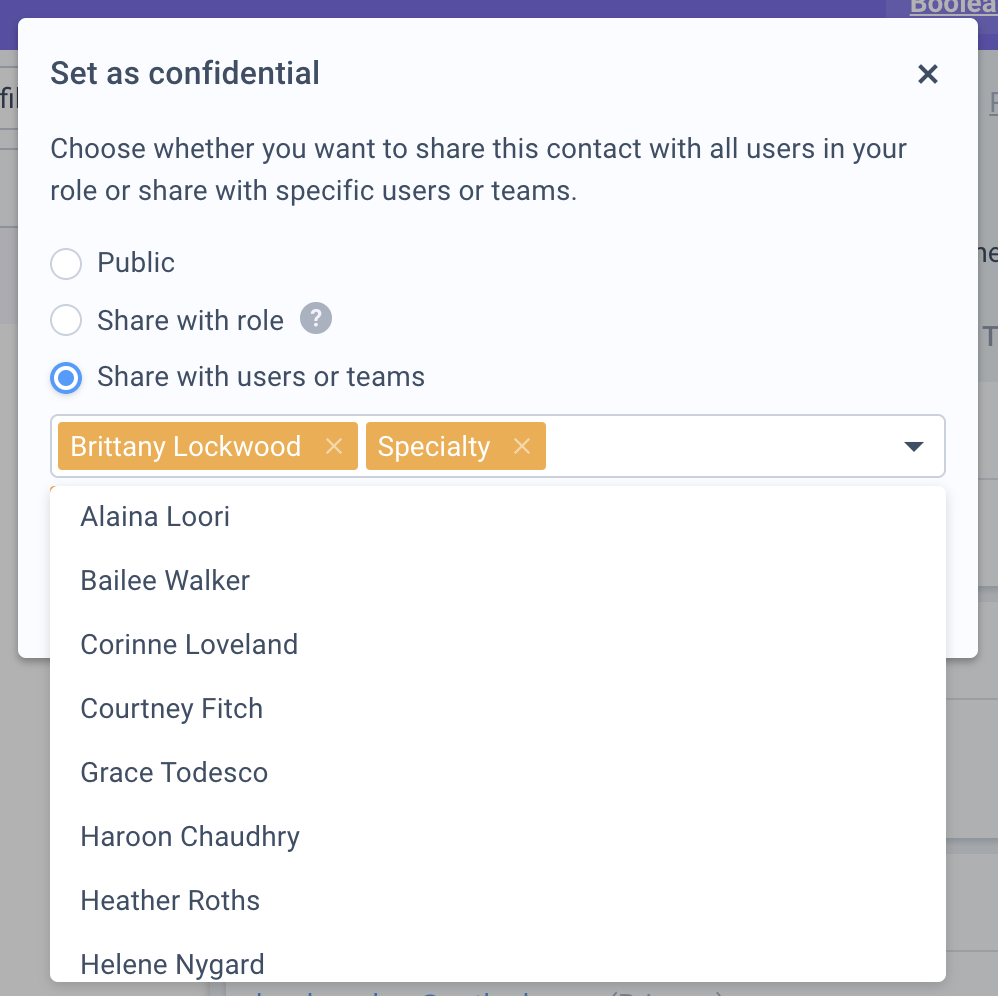 Once a profile has been marked confidential, a banner appears at the top to indicate this. If you choose "share with role" then the banner says "Shared with all users who have access to Confidentiality". You can edit the sharing settings by clicking "Edit Sharing Settings" in the banner or three dots button.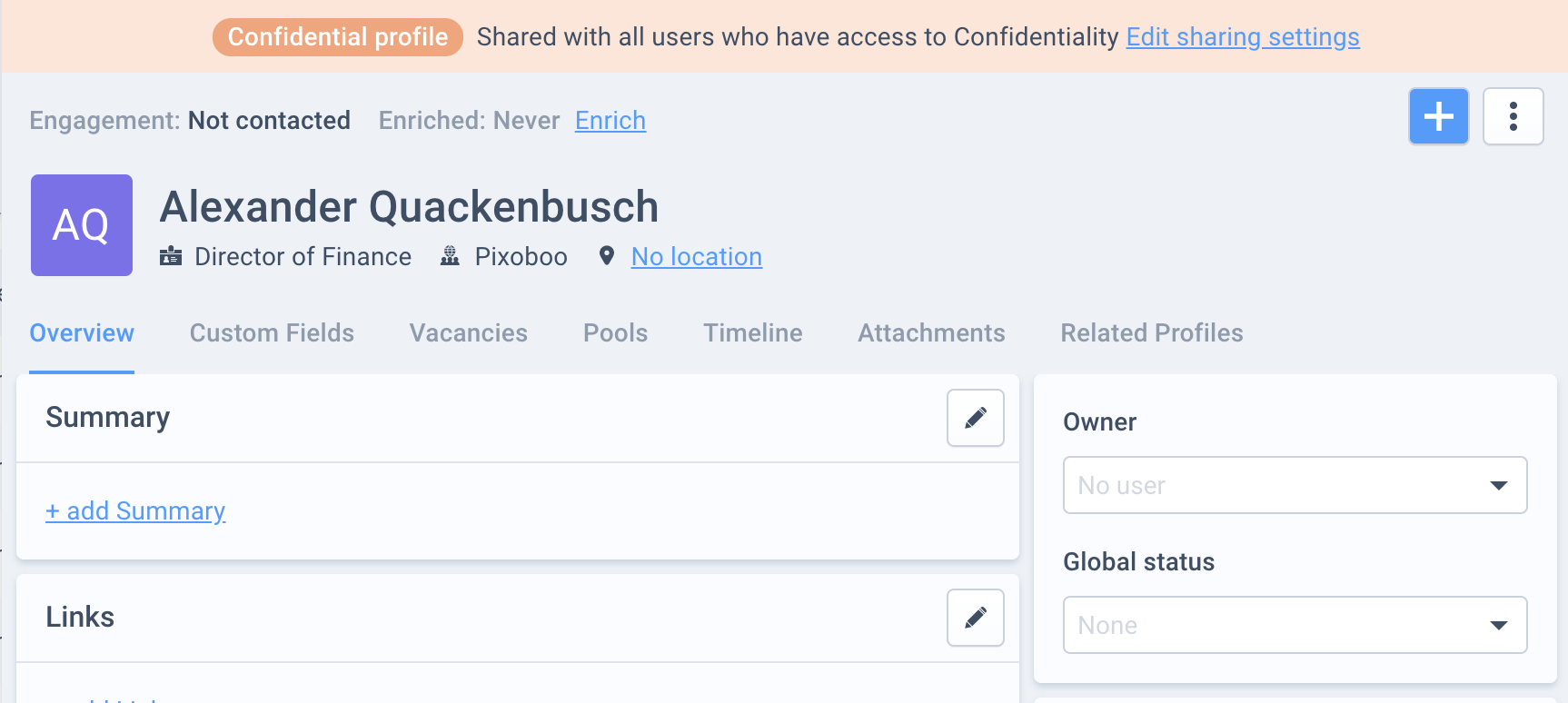 If you choose to share the contact only with select users, then the Confidentiality banner states that the profile can be seen by you and however many users or teams it has been shared with.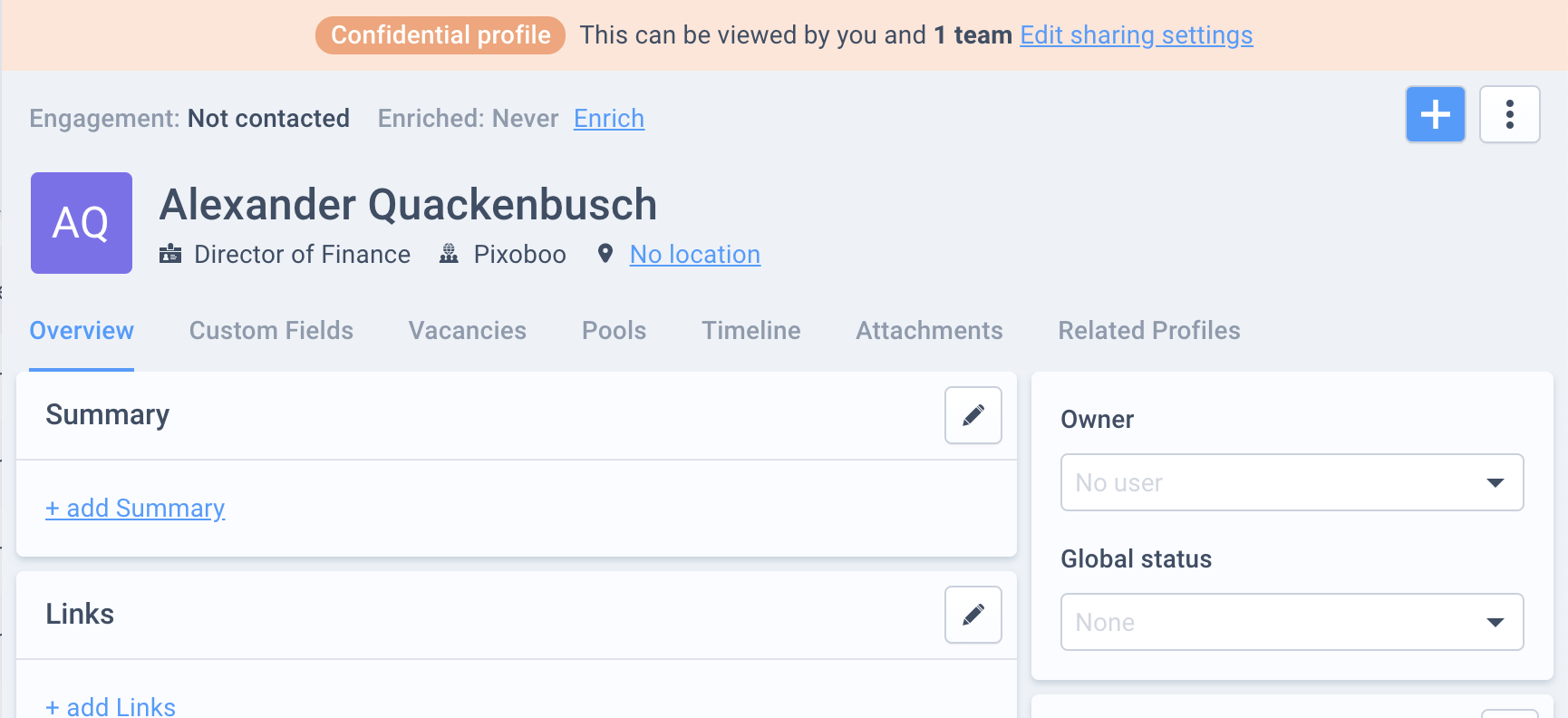 Profiles can also be marked as Confidential or shared only with specific users/teams using an action in Recipe automation. This action, called "Update Confidentiality" gives the same options available when setting confidentially manually on a profile. Keep in mind that only users with Admin role permissions can create Recipes.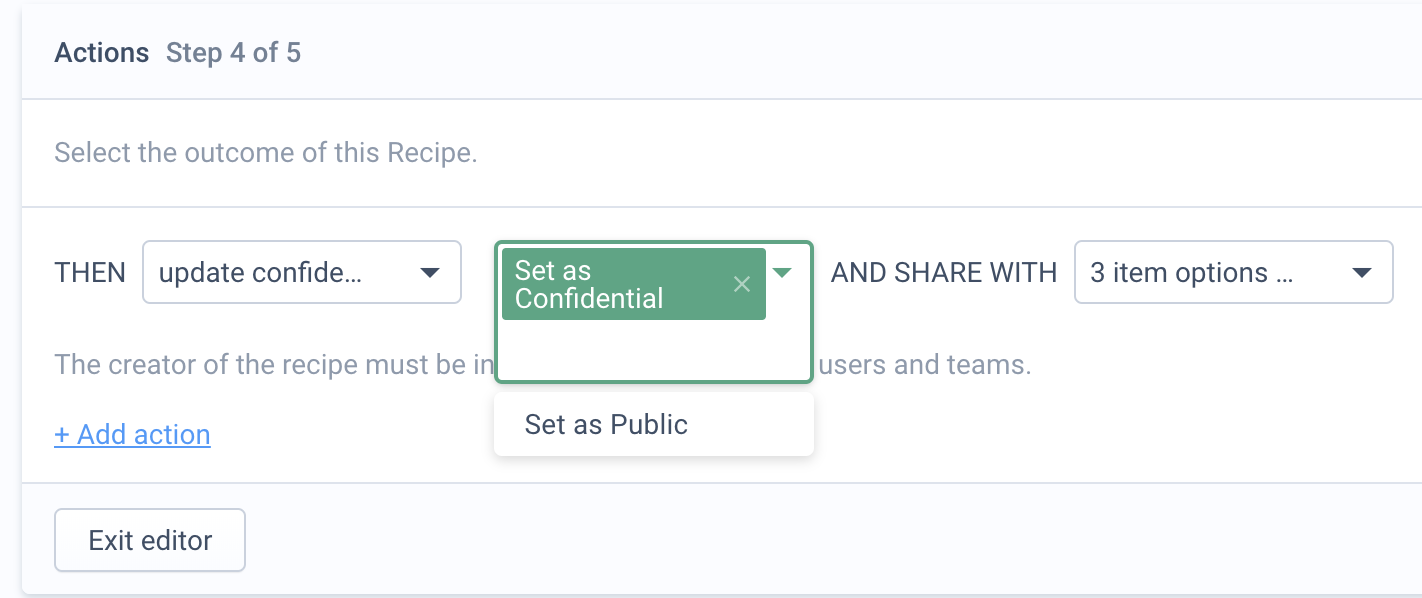 ---
Executive Search Best Practices
All users who are performing executive search or similar specialty workflows should be assigned the Sourcing Confidential role permission when granted access to Beamery. You should also have an admin user create a Team for these users, in order to facilitate sharing and reporting.
Any pools or vacancies being used by specialty teams should be kept private. All pools and vacancies created in Beamery are private to the user who created them by default. Private pools and vacancies can then be shared with specific individuals or teams, allowing members of the specialty team to collaborate without exposing their workspaces to others.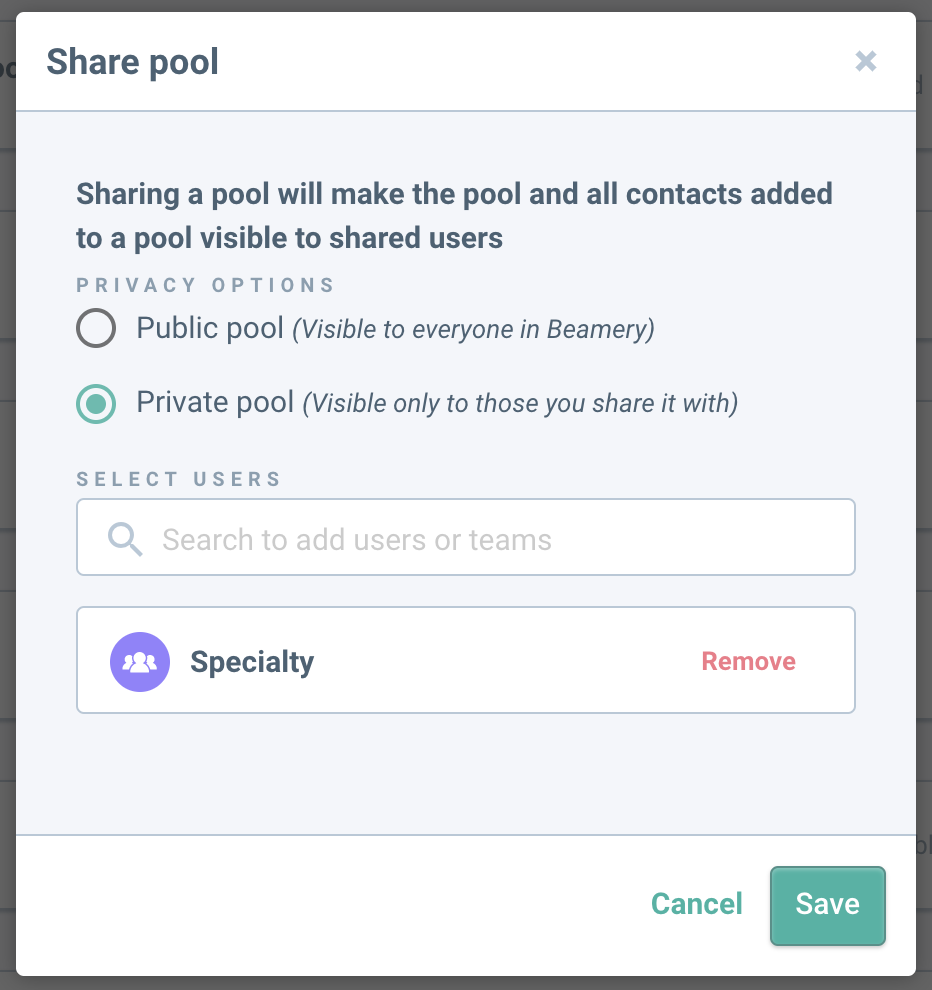 Specialty teams should use a combination of General and Sourcing pools, depending on the purpose of that pool. Remember, Sourcing pools are intended to facilitate the pre-screening process.
All interactions with confidential candidates should be recorded diligently using notes and other Activities in the profile Timeline. Any notes or activities logged can be made private, if needed.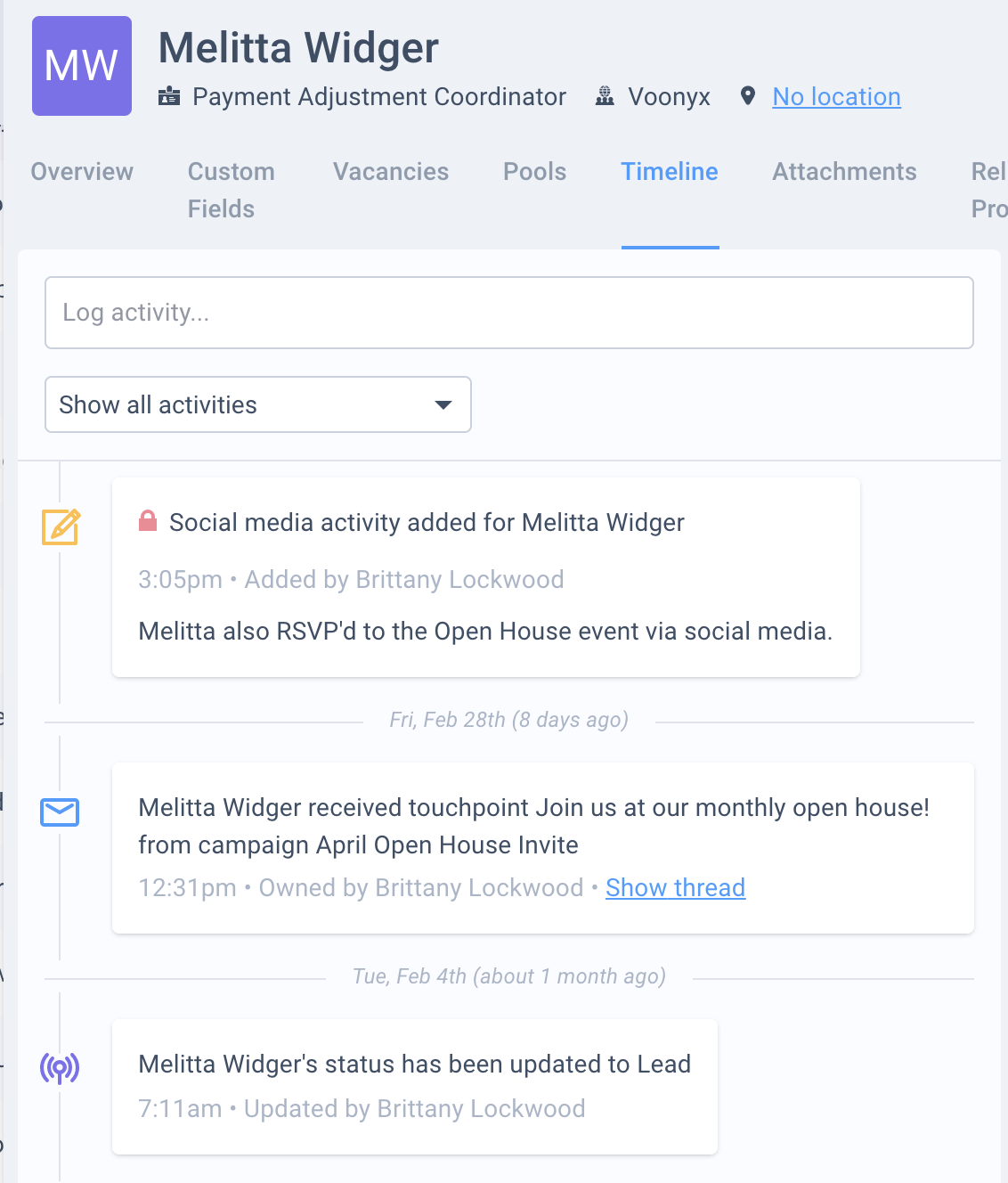 Team members should also be sure to connect their email inboxes with Beamery. However, each organization should consider whether to keep the content of those messages private and visible only to the sender, a preference that can be selected in the Beamery Settings.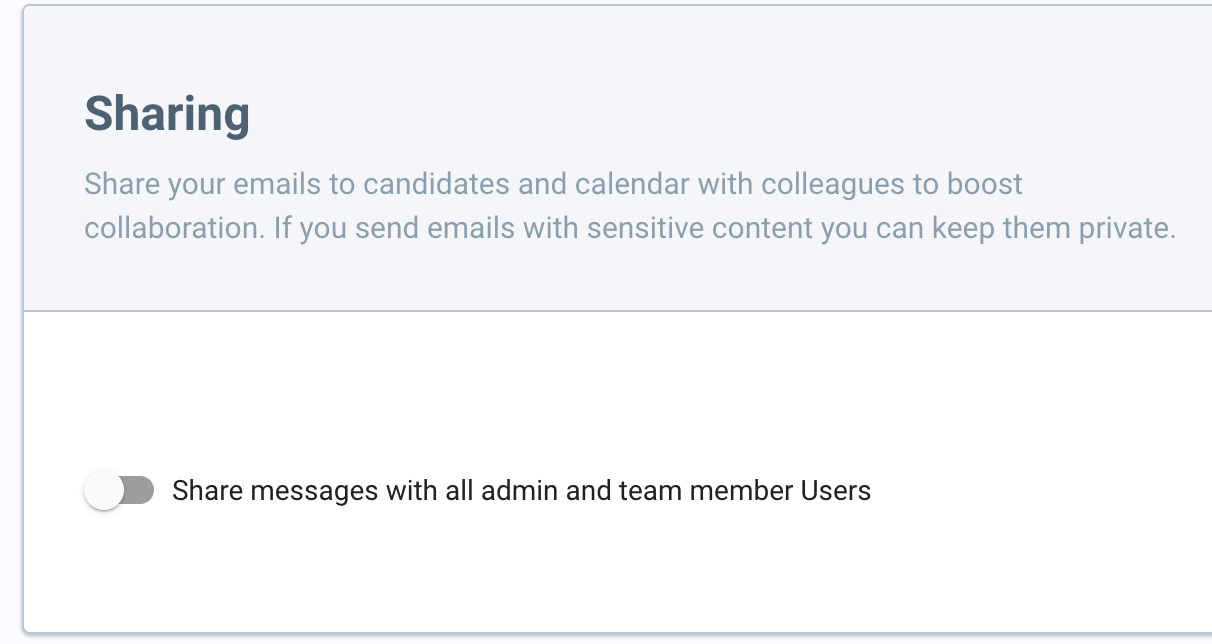 Similarly, organizations with access to Executive Search should encourage all users to diligently map the relationships between contacts in their database using Related Profiles. These connections facilitate personalized outreach and relationship building with contacts.
We recommend that specialty teams work closely with a Super Admin to set up Recipes to automate profile confidentiality. For example, you may want a Recipe that sets all contacts added by users on the specialty team to confidential automatically. Or you could create. a Recipe that marks all contacts as confidential (or shares them only with specific users/teams) whenever they are added to a specific private pool.