Beamery Form Builder enables you to create bespoke sign-up forms to capture all of the information you require from candidates in minutes. These can be used for candidates applying for specific vacancies, attendees at careers events, or simply as a way for passive candidates to join talent communities and keep in touch with your organization.
---
How to Create a Form
Begin by navigating to the Forms list, by clicking the Marketing icon in the left hand sidebar, and then selecting the Forms tab in the top menu bar.
On the Forms list, click the Add Form button at the top right of your screen.

Complete Form Details
Next, you will be taken to the Form Details page: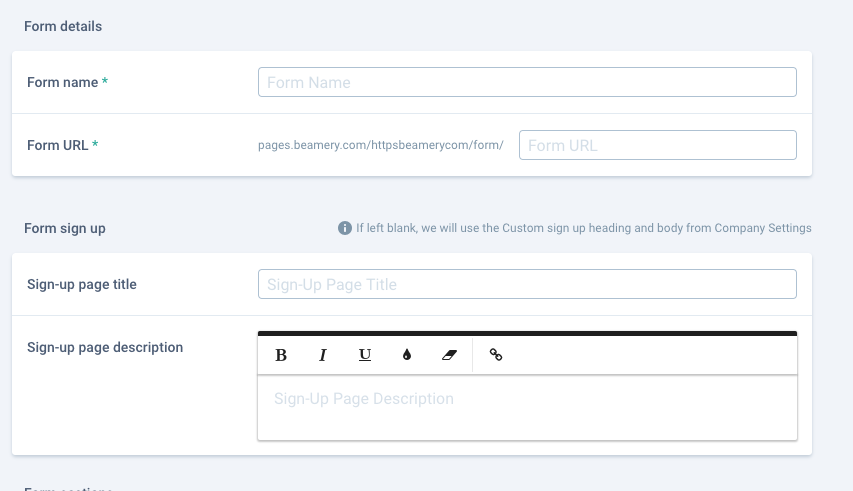 Give a name to the form which will show up in the Forms list.
Define a unique URL for the form.
Give your Form a title that will be displayed on the Sign-Up Page. If you share this on social media, this will also be the header that would display on top of the post.
Write a short description that will be shown under the Form title in the Sign-Up Page. Here it is possible to format the text to be bold, italic or underlined.
You have the option of saving and then publishing the form at this stage, which will result in a form with the standard Beamery data fields for candidates to fill in.
Alternatively, you have the option to customize which fields and sections will appear in the form and whether they are required for form submission.
In the Form sections part of the form builder, you can use the checkboxes on the left to indicate whether a field should or should not be visible on your form. The toggle on the right allows you to determine which of the fields are required before the contact is able to submit the form.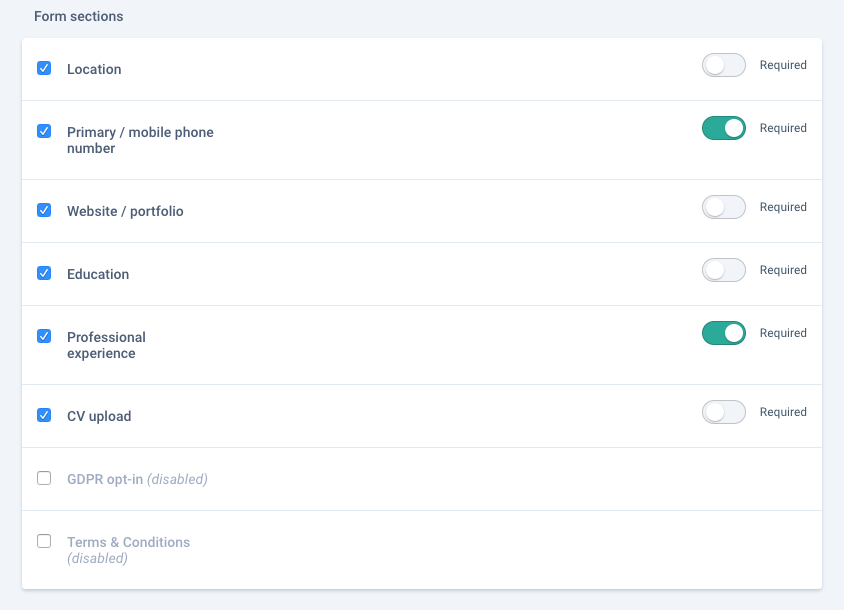 This section also allows you to customize compliance-related content for the form. You can choose to include a Terms & Conditions statement which you can then customize for content, formatting and hyperlinks.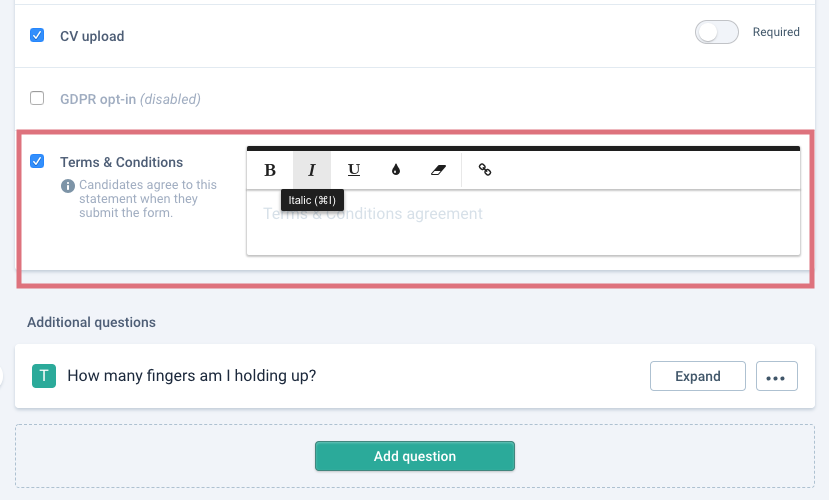 This statement will appear directly above the form submission button, ensuring you can collect data from inbound contacts in a compliant and unobtrusive way.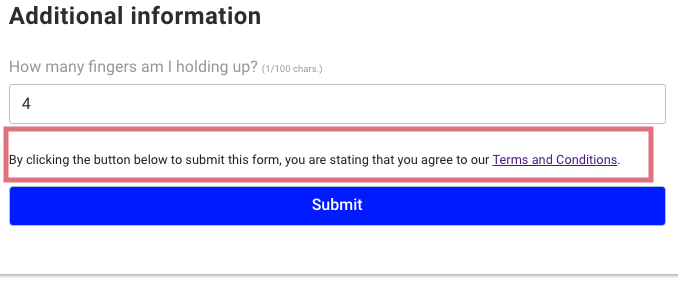 If your company sources candidates in the European Union and has the GDPR compliance module as part of its Beamery package, then you will also see the option to address GDPR opt-in from this page.
For more about GDPR compliance settings in Beamery, click here.
---
Custom Questions
In addition to the standard fields, you can also add some bespoke questions to capture additional information from candidates.
To learn more about adding custom questions to your form click here.