Beamery Surveys are Forms that can be embedded directly into campaign messages. The benefit of using Surveys is that a candidate can complete a survey without signing in, as opposed to a standard form where the candidate must sign in to be able to submit information. Candidates do not need to sign in to Surveys because their email address is already in Beamery.
You can send campaigns that include Surveys to request that candidates update their personal information - including GDPR preferences. You can also use them in conjunction with Custom Fields to collect marketing preferences, to tailor communications or collect feedback on a candidate's experience.
---
Creating a Survey
To create a Survey, follow the same process as creating a Form. There is no difference in the process or means of Form creation. For a reminder on how to build and edit Forms, please click here.
Embedding Surveys in Campaigns
1. Navigate to the Marketing module and you will automatically land on the Campaigns page.
2. Create a new Campaign or edit an existing one as you normally would. For a reminder on how to do this, click here.
3. Once inside the Campaign builder, place the cursor where you would like to position the Form link or button.
4. Select Insert Form. This will display a drop-down of all available Forms, both published and unpublished.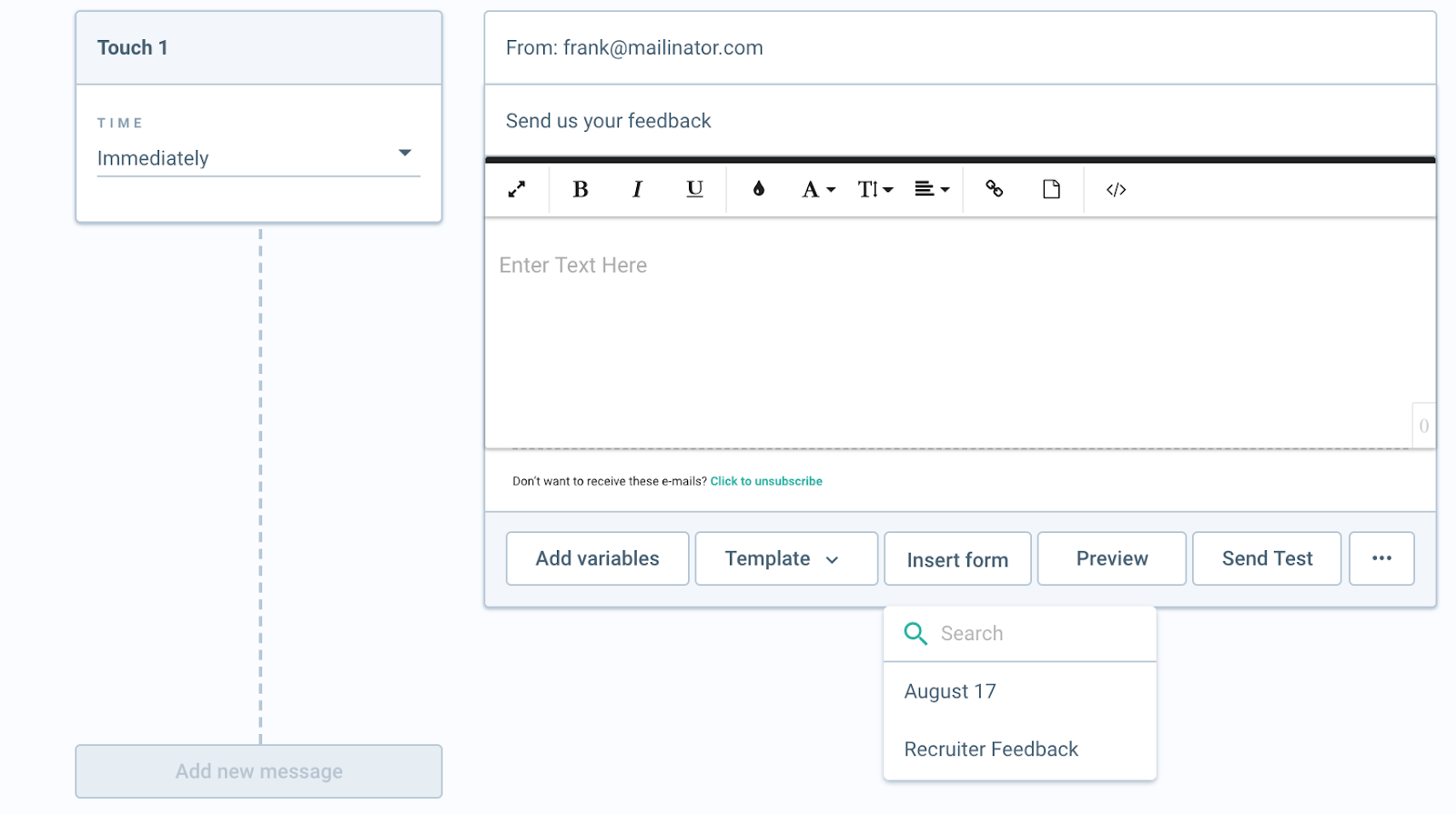 5. Select the desired Form from the drop-down field. This will open a window asking you to choose to embed the Form as a button or a link. Here, you have the ability to customize the name of the Form by entering the desired name into the Form label field.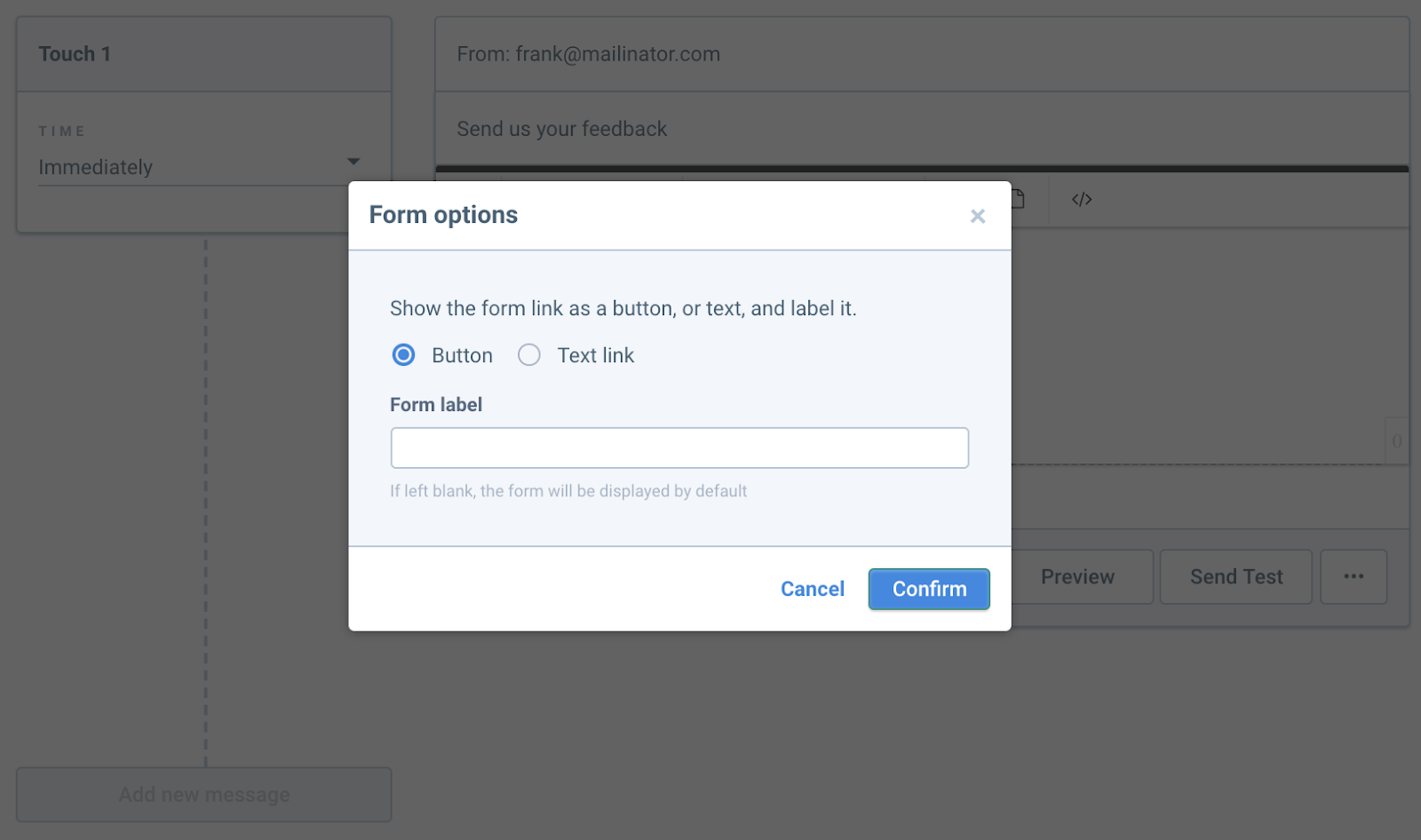 6. Once you are happy with your selection, click Confirm. The Button and/or Link will appear in the Email Builder, as shown below.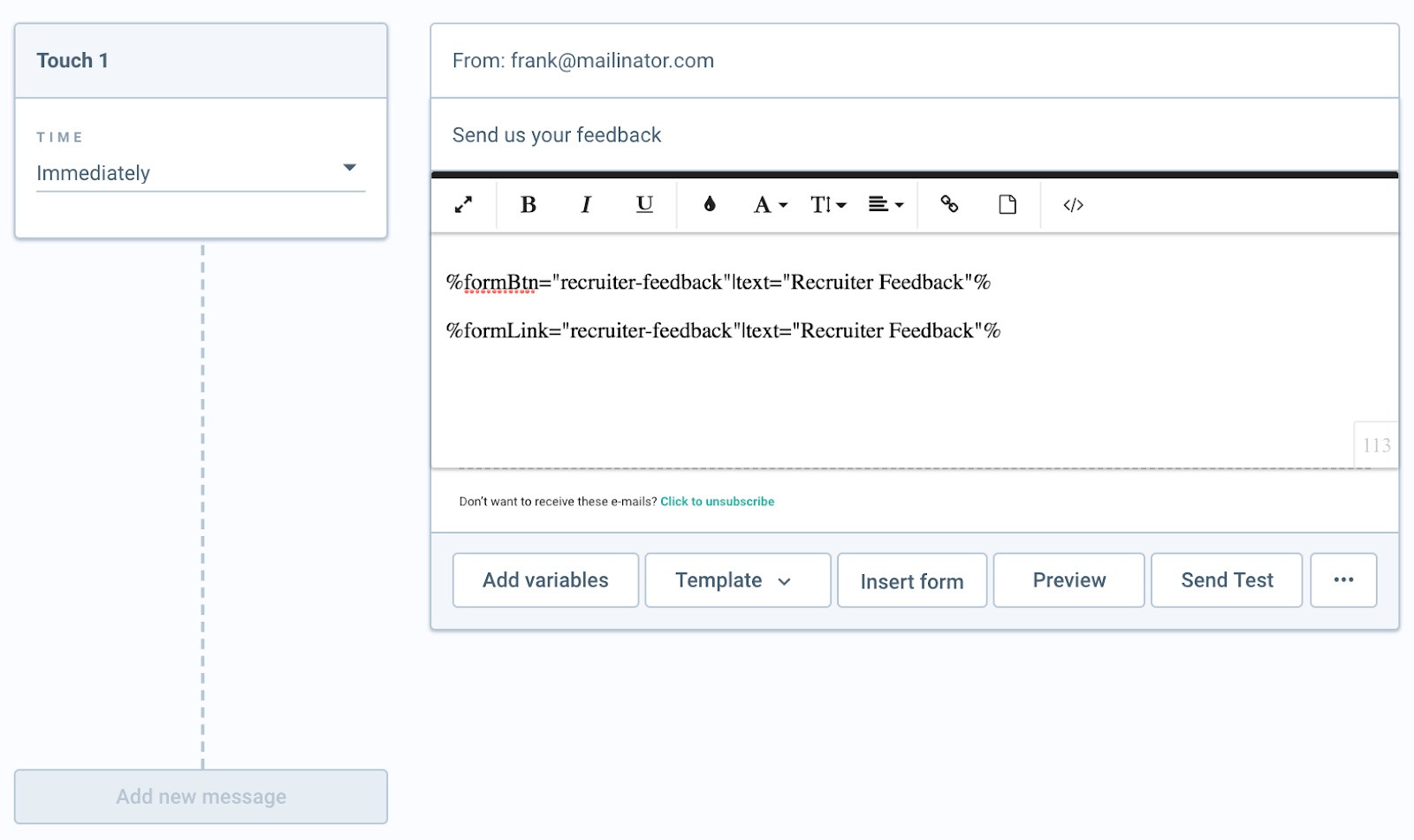 7. As with other buttons in the Email Builder, you can view the colour of the button by clicking Preview. The colour can be edited by changing your brand colour on the Company page in Settings.
---
Candidates using Forms
Inside a candidate's inbox, a campaign with an embedded Survey would appear similar to the image below.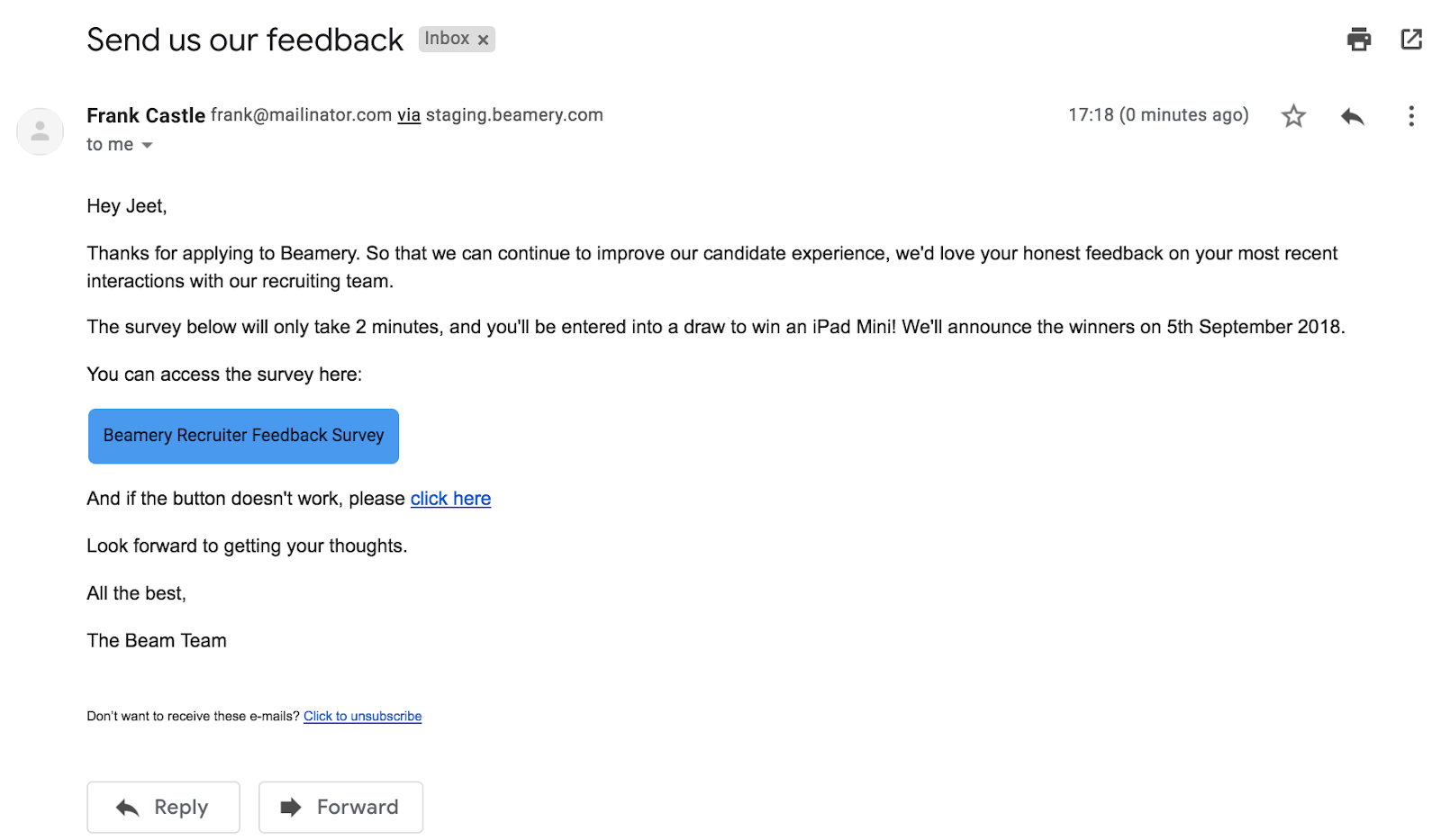 Once the candidate clicks on the Survey button or link, they will be taken directly to the Form submission page. A personalized greeting will be displayed at the top of the Form, followed by its Title and Description. If the form lacks a Description, the description from the Company Settings will be used.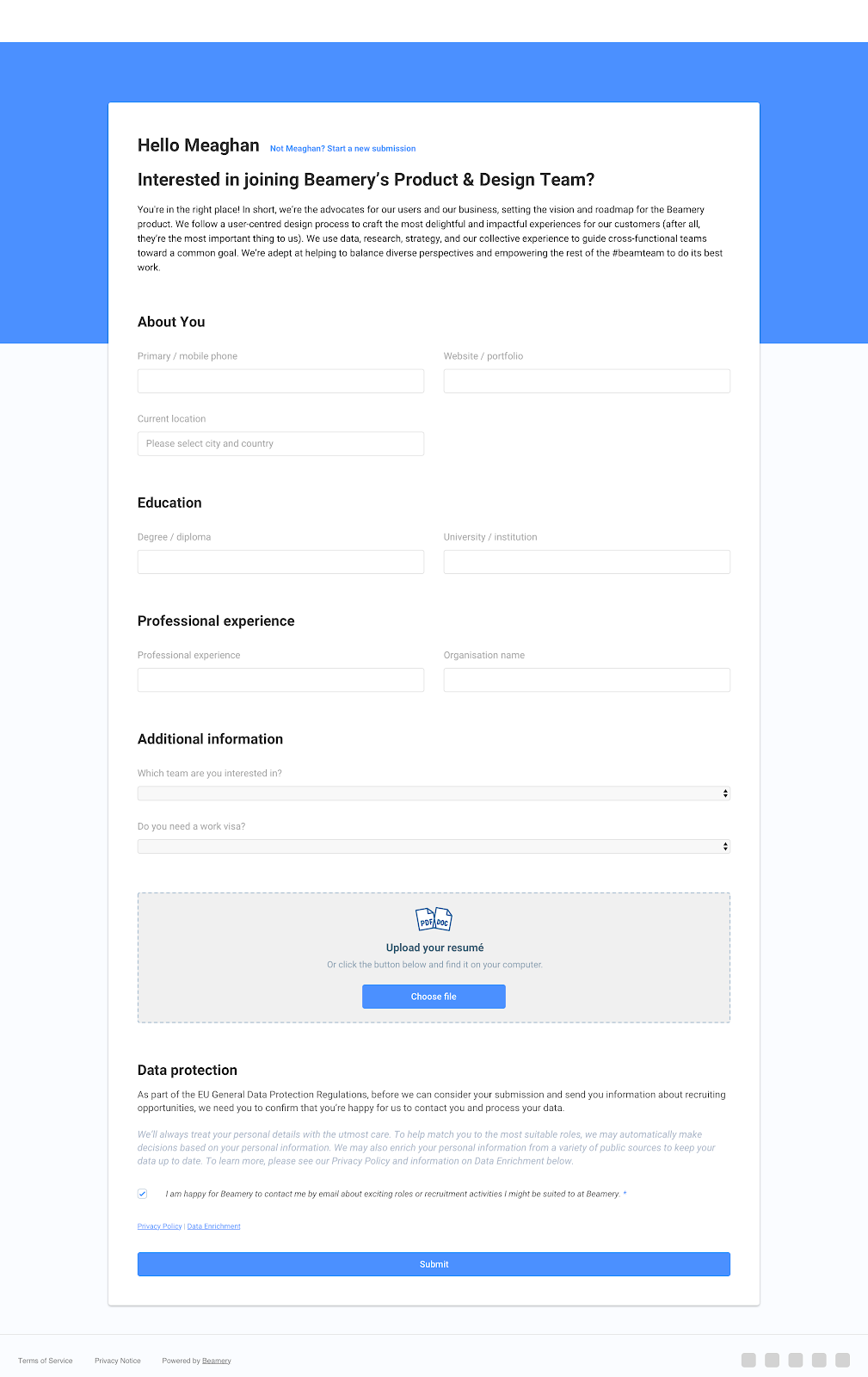 In case you have sent the survey to the wrong email address or recipient, the candidate has the ability to click the "Not You?" button, to renew their submission. This will take them to the standard Form submission page. Please note that candidates can only make submissions using the same Form once every 24 hours.