Global Tags are a powerful way to maintain consistent tagging across all Profiles, Pools and Vacancies in your CRM. You can apply Global Tags to candidates when adding them to Beamery, or to existing contacts in your database. Global Tags can be applied to candidates in the following scenarios:
Importing candidates via CSV
To groups of candidates using bulk actions
Individual candidates through their mini or full profiles or the Beamery Extension
Automatically, using a Recipe.
Note: only Admins and Super Admins can add, edit and remove tags from the Global Tags list in Settings.
---
Applying Global tags to Candidates Imported via CSV
You can add a single Global Tag to a spreadsheet of candidates when importing them into Beamery via CSV upload. To do so, navigate to the Settings menu by clicking the cog in the bottom left corner.
Click on "Import Contacts" then select "Upload Spreadsheet". Choose the spreadsheet of contacts you wish to import.
Next, select a Global Tag from the drop-down menu, to automatically assign to your imported contacts.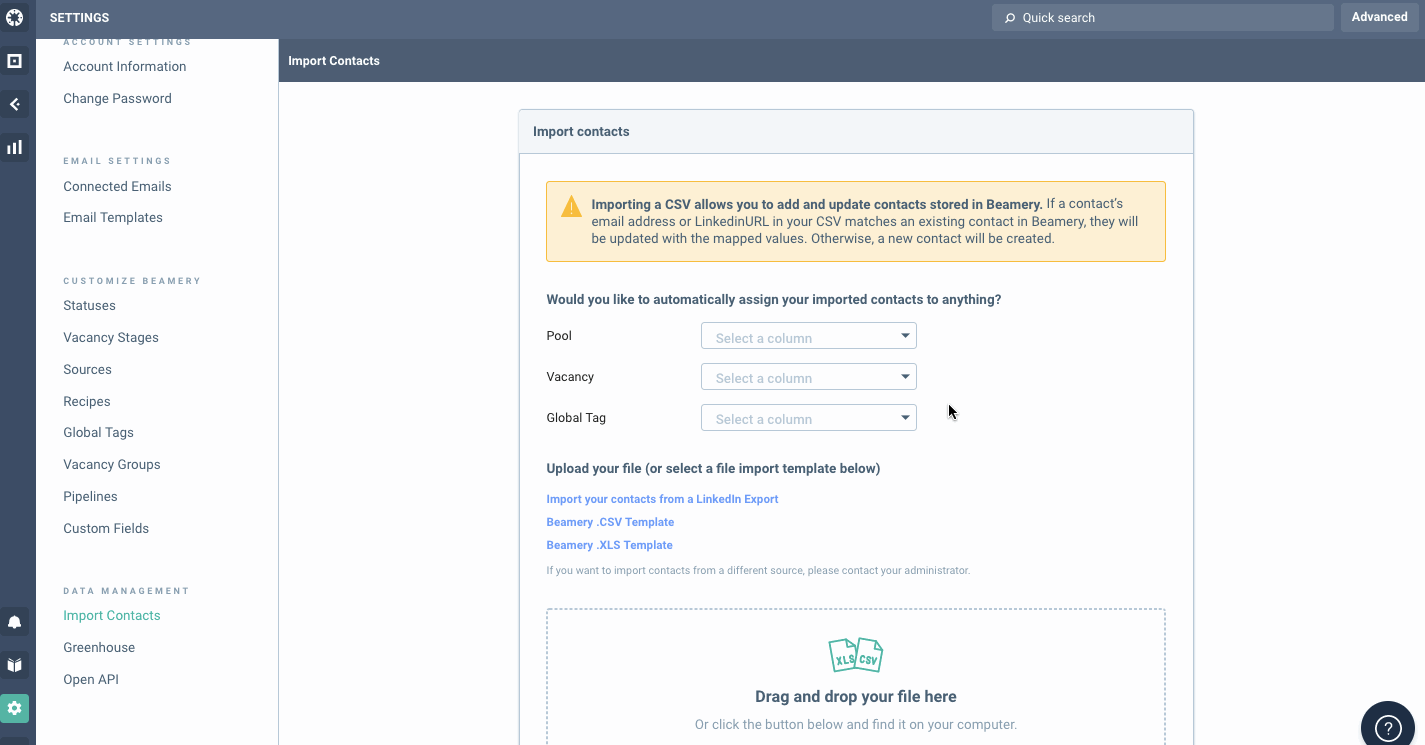 Once you've mapped all of your spreadsheet columns into the appropriate Beamery columns, click the "Confirm Import" button.
To learn more about how to import your contacts into Beamery, please click here.
---
Applying Global Tags to Candidates using a Bulk Action
You can apply Global tags to large groups of candidates in Beamery by using bulk actions. To do so, navigate to your People Grid, Pools or Vacancies.

As every candidate has one universal profile in Beamery, you can apply Global Tags to your contacts wherever is most convenient. You can also apply multiple Global Tags to candidates in one single bulk action.
Locate the candidates you wish to tag. You can either select the tick box next to each candidate's name, or you can apply filters to find a relevant group of candidates - for example, Title contains "Customer Success".
Once you have identified your group of candidates, click the tick box next to the column heading "Full Name'". This action will select all of the results listed on the grid.
A series of bulk actions will appear at the top of your grid. Click the button "Bulk actions" and select "Add Global Tag".

The "Add Global Tags" window will appear including a drop-down menu of your existing Global Tags. You can select multiple Global Tags to add to your candidates. When you have finished your selection, click "OK".
These Global Tags have now been added to your selected candidates.
---
Bulk Action Limits
Companies can set a limit on the number of contacts that bulk actions can be applied to, in order to prevent accidental mass contact updates and messaging. The limit will be shown in all grid views, in advanced search and in campaigns.
---
Adding Global Tags Manually from the Candidate Profile
You can add Global Tags to a candidate from within their profile. To do so, first you must locate the candidate in your system either by using Quick Search or filters. Once the contact has been located, click their name to open the profile.
Locate the "Global Tags" section on the right side of the profile. From here, you can select the drop-down menu listing all existing Global Tags. Select one or multiple Global Tags and click out of the drop-down to apply them to the profile.
To remove a Global Tag, click on the "x" within the Global Tag.
All changes are saved automatically. When adding or removing a Global Tag, you will see this action confirmed by a notification at the bottom of your screen.
---
Adding Global Tags Using a Recipe
Super Admin users in Beamery can create Recipes to automatically apply Global Tags to Profiles when they meet certain criteria, or when a certain action is taken. To do this, when
building a new Recipe
, use the
Add Global Tag
Recipe Action and select which Global Tag(s) should be applied.