As you use Beamery to engage with candidates and nurture candidate relationships, follow the below instructions to find candidates in your CRM who have not replied to your emails. This make is easy for you to follow up with a candidate where necessary, to ensure you don't lose touch with the candidate.
1. To see contacts who are unresponsive, navigate to "People" within the CRM module.
2. Open the Filters menu by clicking on the blue "Show filters" link on the upper left corner of the grid.


3. If you would like to filter people that you have contacted but haven't yet replied, the main two filters you should use are:
Last contact: this filter represents the last time an outbound message was sent to a candidate. For example, "Last contact less than 90 days" will show people you contacted within last 90 days.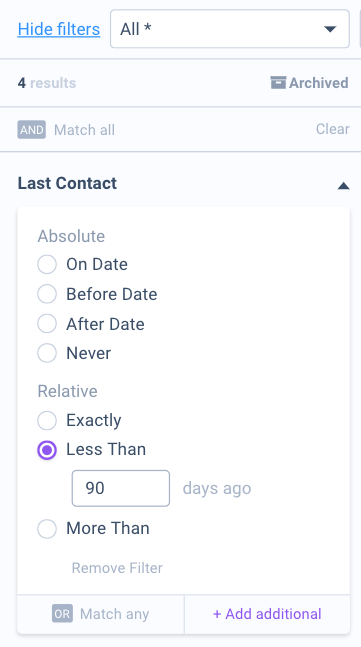 Last heard from: this filter represents the last time a candidate contacted you via email. For example "Last heard from = never", will show candidates that have never replied to campaigns, or emailed you or a team member.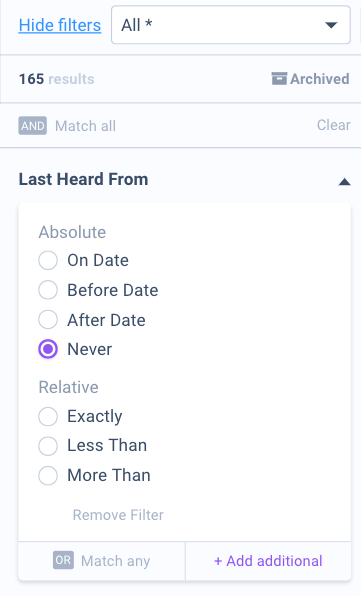 Combine the two and you can get "people we contacted less than X days ago but who have never replied".
You can also utilize the "Last email interaction" filter. This filter identifies the last "open/click" on an email event, whether campaign or direct. You could filter on "Last email interaction = less than 30 days ago" and "Last heard from = never" to identify candidates who are interacting with your messages but not replying back to you.