Managing duplicate data is an essential component of maintaining data cleanliness within your talent database. Discrepancies or errors in data waste time and cause users to lose faith in their systems. When recruiters can trust the data, we all drive adoption further. Below is an overview of duplicate management functionality and best practices for Beamery.
---
Table of Contents
Duplicate Data on the contact Record
Using Automated Deduplication
Best Practices for Deduplication
Advantages of Deduplication
---
Duplicate Data on the Contact Record
Beamery enriches data from multiple sources and as a consequence, there is sometimes duplication in fields like experience and education. If you find a contact with duplicate data in these areas, the easiest way to filter out duplicates is to enrich the contact. This will ensure that the most up-to-date data is included on the contact record and remove any potential duplicates.
---
Using Automated Contact Deduplication
In order for automated deduplication to take place, a contact must have a unique identifier in the form of an email address or social profile URL (such as public LinkedIn profile URL). However, an email address is the preferred unique identifier for this process. This is the only piece of information that is guaranteed to be unique to a single individual.
If a contact is added to Beamery with a unique identifier that is already associated with an existing profile, then those profiles will automatically be merged. This is true whether the contact is added manually, via the Beamery Extension, via spreadsheet import or via a Form submission.
For example: your colleague added a contact from the Beamery Extension and included the contact's email address when creating them. Then 6 months later, you import the same contact with the same email address. Upon import, the profile you added will be automatically merged with the profile that your colleague created 6 months ago. Rather than showing as a "contact added" in your Notifications, you will see "contact updated."
Similarly, if you try to add an email address to a profile that is already associated with another profile, Beamery will show you a warning and prevent you from adding that email address.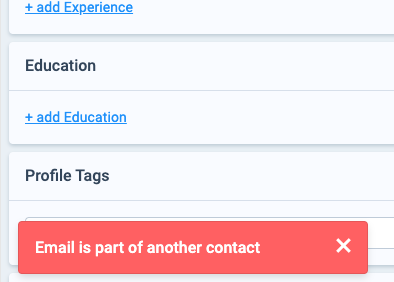 In this case, if the contact name is the same on both profiles, then you should be able to merge those profiles using the banner at the top of the profile.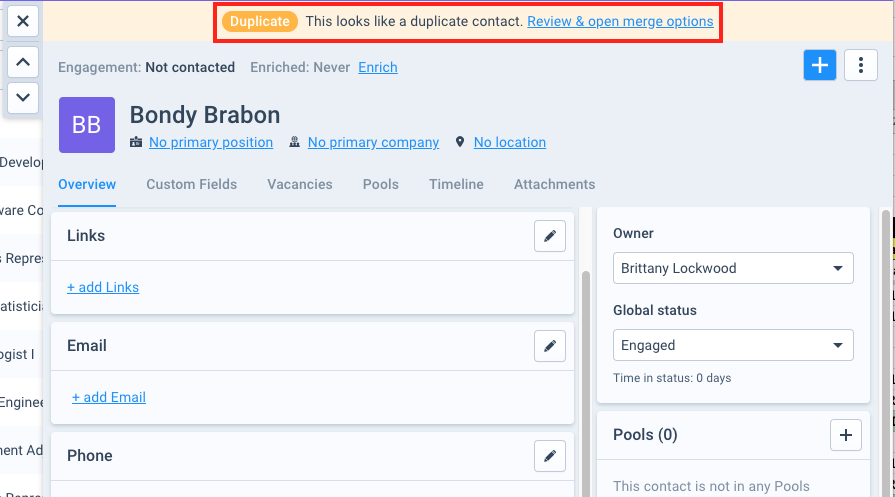 ---
Best Practices for Duplicate Checking
Best practice for preventing the addition of duplicates is always to search Beamery for a contact before adding them to Beamery. There are several approaches for this.
Quick Search
Use the Quick Search to rapidly search for contacts by name or email address. In this case, using the email address is preferable because it is the best way to be sure you are locating the correct individual. In situations where a name returns many results, you are better off using filters to identify candidates (see section below).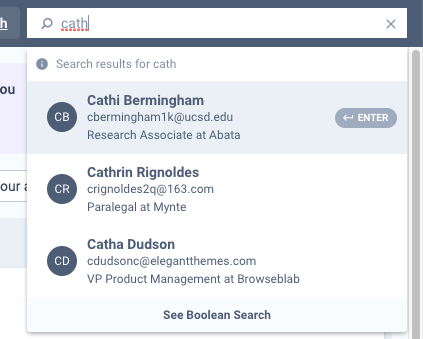 Search from the Beamery Extension
Within the Beamery Extension, search functions much like Quick Search within the Beamery application. Use the magnifying glass icon to access Search. Again, it is best to search by email address to be sure you are locating the correct individual, but you can also search by name.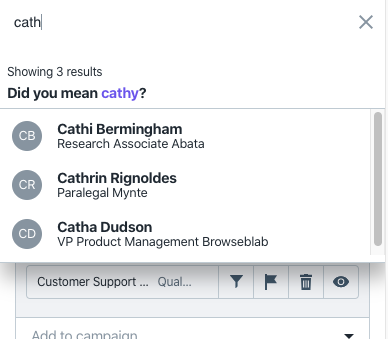 When viewing public profiles on LinkedIn, the Beamery Extension will automatically notify you that the contact is in the system, if they have been previously created in Beamery with their public LinkedIn URL included on their profile.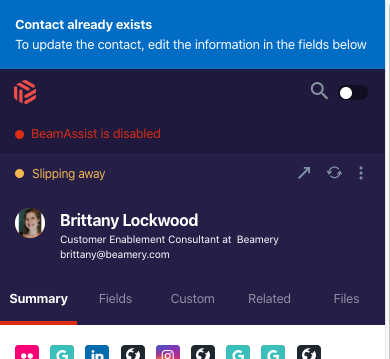 Use Data Filters
Using filters is the best way to identify a contact using multiple data points. For example, as shown below, you can search for a contact by their email address AND first name AND last name. The combination of those three points of data means you can be fairly certain that any results are in fact the same individual.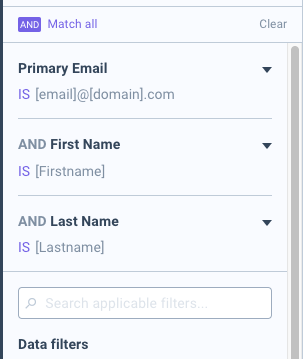 To use filters for duplicate searches faster, you can save this filter configuration as a Saved Filter, then return to it any time you want to do a duplicate search before adding a contact.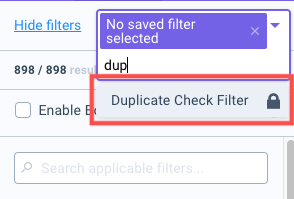 ---
Advantages of Deduplication
Automated deduplication can help you add new data to existing profiles within Beamery.
A prime example is importing contacts via spreadsheet. As long as the contacts in your file all have email addresses, then if any happen to already exist in Beamery, the new information from the spreadsheet will simply be added to their existing Beamery profile. Some organizations have used this to bulk update fields for existing contacts, including custom fields.
This is similarly true for existing contacts who complete a Beamery Form. By default, all Forms require a prospect to provide their email address. This means that if someone completes a Form, but already exists in your system with an email address, the information from the form will be added to their existing profile, rather than creating a duplicate profile.
---
Additional Resources
How to Merge Duplicate Candidates in Beamery
How can I import my candidate lists and Linkedin contacts into Beamery?