A key benefit of using Forms, is being able to automate workflows based on candidate Form responses. This process is made possible by:
Forms that map candidate answers to custom fields in your CRM. You can use existing Custom Field drop-down options as form question answers.
Recipes that trigger automated workflows based on form answers that map to custom fields in your CRM.
Here are the steps to set this process up- in your Beamery environment.
---
Create a Custom Field
1. Navigate to Settings and select Custom Fields on the left side navigation panel.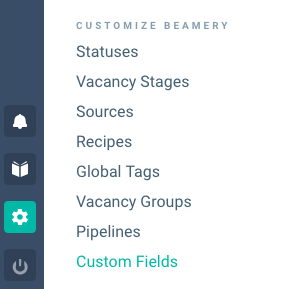 2. Click the Create Custom Field button. A pop-up will appear, in which you can enter the Custom Field's criteria. For a more detailed guide on how to create a Custom Field please click here.
Note: only Super Admins have access to the Custom Fields page in Settings.
Create a Form
1. To create a form, navigate to the Marketing module and click on Forms in the navigation bar. Then click the "Add Form" button.
2. To edit an existing Form, click on the three dot button next to the Form name and select "Edit Form". Both actions will take you to the Form builder.
For exact steps on how to create a Form, please click here.
Link Form Questions to Custom Fields
1. To map candidate answers from Form questions into Custom Fields, navigate to the Form containing the questions you wish to link.
2. Click "Additional Questions", select the "Drop-down" question type and enter your question text.
3. Next, select the Custom Field you wish to map the Form question to. You will import the drop-down options associated with the Custom Field. These drop-down options will become the answer options that candidates can select when answering the question.
For example, if the form question being created is "What department are you interested in?", you could map this into the Custom Field for "Job Category".
4. Upon linking this Custom Field to the question, all existing Custom Field drop-down options will be displayed as possible answers.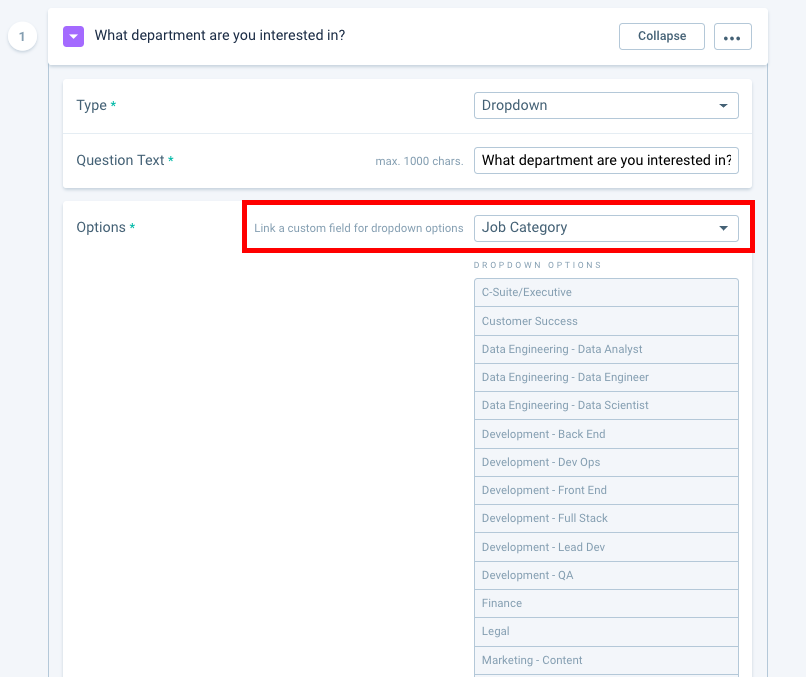 5. Once the Form is published, these options will be available for selection to anyone filling out the Form.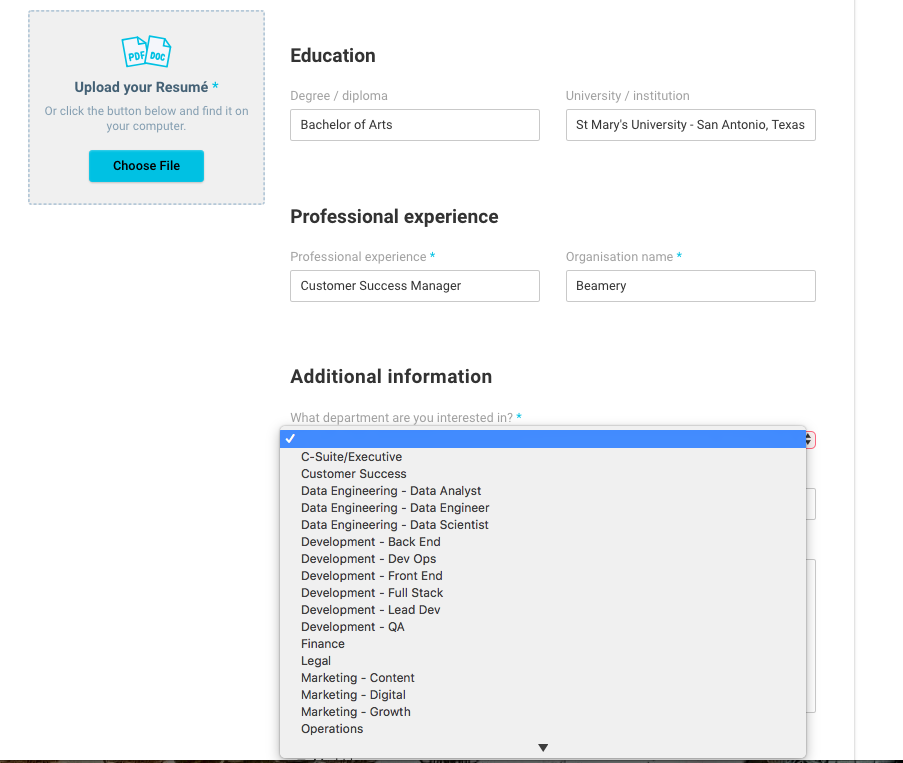 ---
Create a Recipe
1. To create a Recipe, start by navigating to the Automation module.
2. Once inside the trigger card, select "when contact has joined via Beamery Pages". Then select your chosen Form.
3. Select a specific question to trigger the Recipe, or you can set the completion of the Form as the Recipe trigger.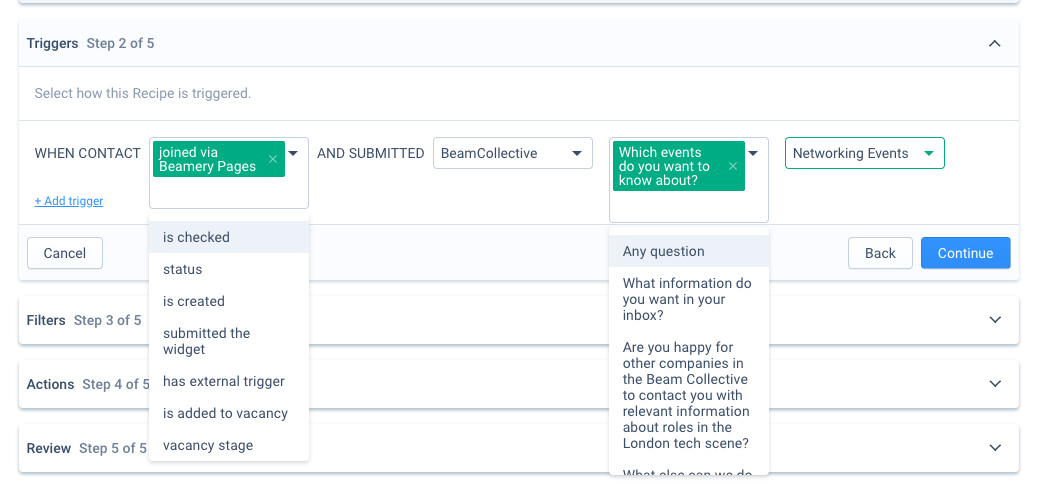 4. You have the option to add additional filters if you want your Recipe to apply to a very specific set of candidates.
5. After establishing triggers and filters, you must select at least one of the following actions to occur (you can select multiple actions in one Recipe):
add to Campaign
add to Pool
add to Vacancy
update Status
assign to User
add Global Tag
add to Greenhouse (this is available to customers who use Greenhouse as their ATS)
assign to Source
Do Not Contact
Anonymize
Archive
Delete