Custom domains provide candidates with more personalized experience, as the URL is tailored to the employer's branding. This can help to increase the likelihood of them submitting their details and following through with their application.
From employers, custom domains are a great way to maintain brand consistency and build a more recognizable employer brand. It can also help to increase brand recognition, trust, and conversion rates.
Read on to learn the simple steps your organization can take to begin using Custom Web Domains. With these steps, you'll be able to take your Flow URLs from (for example) https://flows.beamery.com/yourorganization/community to https://custom.domain.com/flows/community.
Before You Begin
The initial setup of custom domains begins with your domain administrator. They will need to create a CNAME record and include the value vanity.beamery.com or the value vanity.beamery.eu depending on your platform URL. You will then need to choose a unique URL and one that is not an apex domain.
Please note: While you can change your Custom Web Domain if needed, Beamery only supports one Custom Web Domain per account.
Setting up a Custom Web Domain
Once the CNAME record has been created, Super Admins may navigate to Settings > Custom Web Domains. Then click 'Add Your Domain'.



Enter the custom domain created in Before You Begin.




If all of the steps have been followed correctly, your custom domain will be successfully created.



When entering the domain, you will see an error message if the domain was not set up correctly during the Before you Begin stage.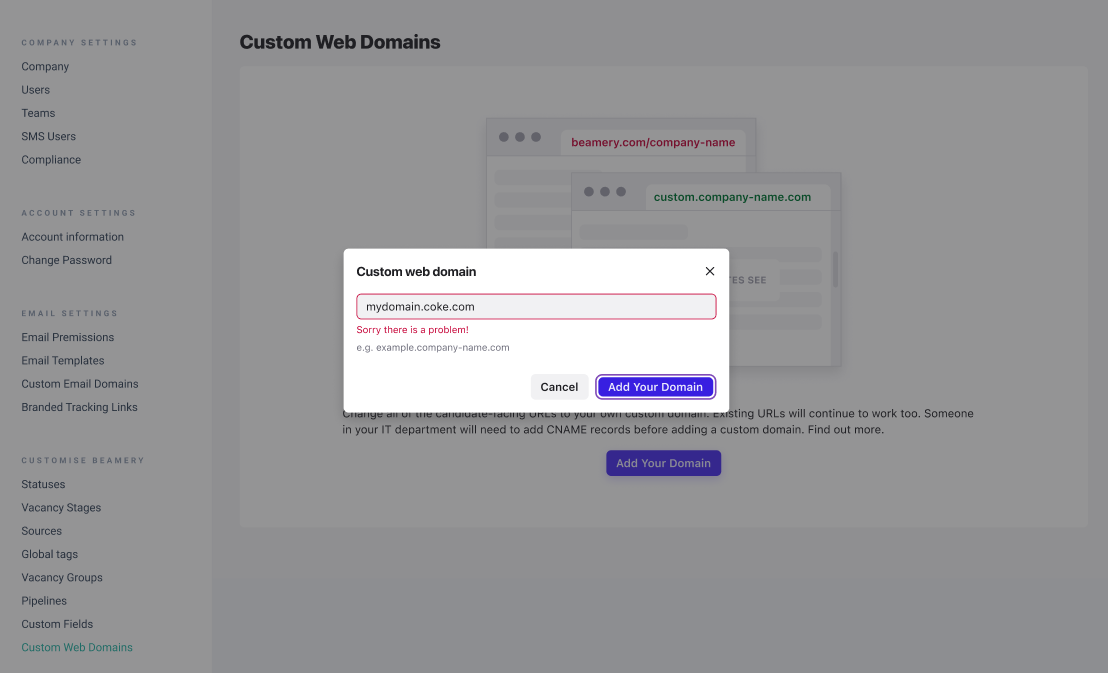 To double check that your custom domain has been activated, you can navigate to a convert flow and check the domain. Convert > select any flow > Settings to see the domain used on the flow.
Read Custom Domains frequently asked questions article here.