**This is applicable to companies participating in the Campaign Editor Early Access Program**
Campaigns in Beamery can be used to create highly personalized email messages to target a large group of candidates in your CRM. If a candidate fails to open their first email, or if they don't click on a link, you can schedule automatic follow-ups to source or nurture new candidate relationships.
Please note that not all user permission levels in Beamery can create Campaigns, learn more here.
---
How to Create a Campaign from the Campaigns List 2.0
1. You can create a new campaign from the Campaigns list. To access this, click on the Marketing icon on the left hand navigation bar and then select 'Campaigns' from the top menu.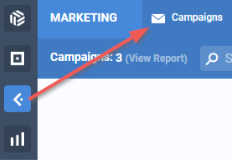 2. Click on the Add Campaign button in the top right corner to launch the campaign builder.
3. This will take you to the Campaigns set up page where you will name your Campaign and select a Campaign type.
4. There are two different campaign types available in Beamery:
a. A Single campaign is one email touch point which you can personalize with variables and send to a group of candidates
b. A Dynamic campaign is a multi-touch campaign which allows you to schedule automatic follow ups according to recipient behaviors
5. Next you may choose a verified email address to send your campaign from.
6. After selecting your campaign type, email address and giving it a name, click Continue.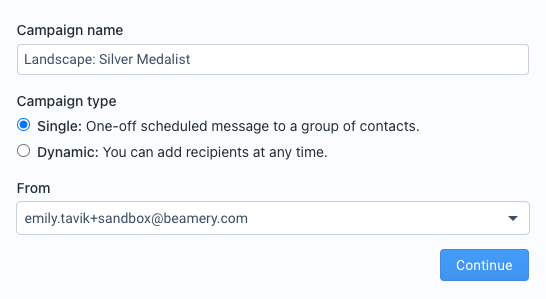 7. You will now be taken to the Campaign Building screen where you will begin building your first campaign touch.
8. First, enter a subject for your email and decide when you would like the email to send. Choosing Immediately means a recipient will receive an email as soon as they are added to the campaign. You can delay the initial send by choosing Send later under Time. Then select the number of days you wish to delay and the time of day you want the email sent.
Note: The time of day you choose to send an email is based on your timezone, not the recipients' timezone.
9. Next, click Edit to move into the new Campaign Editor.
Campaign Editor Diagram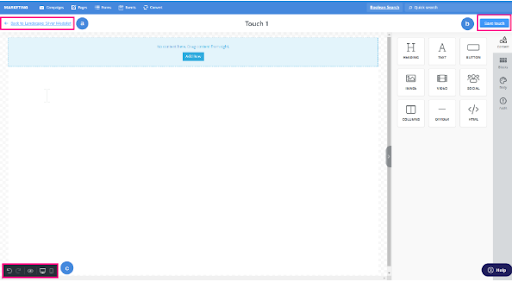 a. Click to go back to the Campaign Overview page
b. Save your work
c. Undo, Redo, Preview and Toggle desktop to mobile views
View the Building Campaigns in Campaign Editor 2.0 article for step by step on building a detailed campaign.
10. Once you have finished editing your campaign, return to the Campaign Overview page.
11. If you're creating a Dynamic campaign and would like to add another touchpoint, scroll down and click on the 'Add touch'.

12. Before composing your second touchpoint, you can select the rule upon which your next touchpoint will send according to a selection of recipient actions. You can do this through the "Select a rule" drop down. You can select from the following options:
a. If "no reply" to previous touch
b. If "reply" to previous touch
c. If "no click" to previous touch
d. If "click" to previous touch
e. If "no open" to previous touch
f. If "open" to previous touch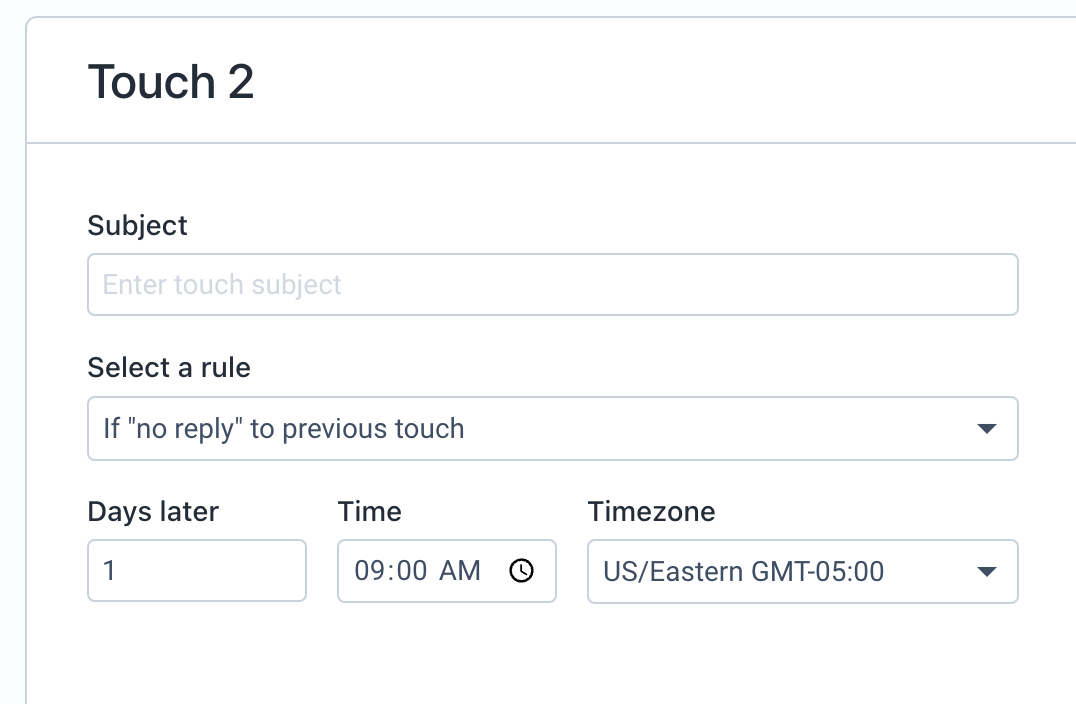 13. Once you have selected a rule to trigger the second touch point and specified when you would like to send it (no. of days after the first touch point is sent), you can compose your second touch point in exactly the same way as you did the first.
14. If you need to delete a touch point, simply click delete within the touch point scheduling window.
a. If you would like to add further touchpoints, you can repeat this process as necessary.
15. Next, you will need to select your recipients for your campaign.
16. You can combine filters like Pool and Status to narrow your selection to the most relevant candidates in your CRM. We recommend adding candidates by Pool as it makes it easier to target your campaign towards a specific candidate group or persona.

You can always remove a filter by clicking on Remove Filter. You will see a snapshot of candidates added to your campaign with a summary of the number of matching recipients.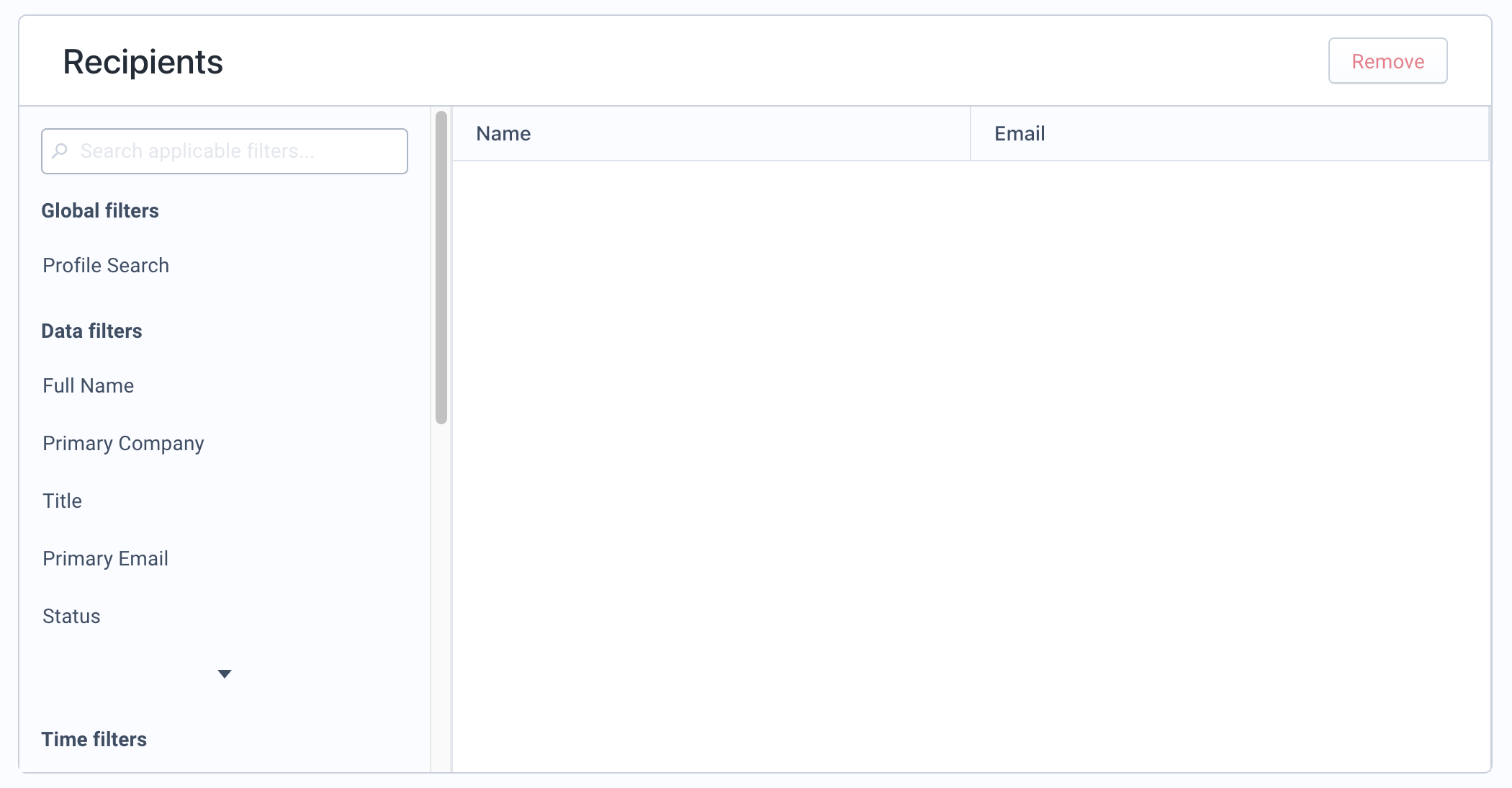 Additionally, email campaigns can be always-on and continually filled via automations called Recipes. You can read more about Recipes here.
17. We recommend that users preview or send a test email before launching the campaign. To send a test for a single touch point, click on the Send Test button on that touch point. Enter the email address that you would like to send the test message to and click Send.
18. When you have completed your campaign and reviewed your build, click on the Save and launch campaign button located in the bottom right of your screen.
19. After you have launched your campaign, it will appear in your Campaigns list. You can use Beamery's Campaign Analytics reporting to understand the performance of your Campaign.