Nobody likes to see talented team members become "former employees". The best way to avoid that disappointment is to stop that talent leaving in the first place. To explore conversations with us about how our internal mobility and talent management solutions can help with this, please contact your CSM and we'll guide you through how our customers are taking advantage of greater opportunities to present career paths, learning opportunities and match talent with mentors.
However, sometimes great talent can only become even better at what they do by gaining experience in other companies, industries and cultures. It's hard to watch them leave, but that shouldn't be the end of your relationship. The greatest talent focused organizations don't ruin the relationship with great employees as they depart the organization, they continue to engage with their alumni, building a network that they continue to nurture for years to harvest referrals, advocate for your brand and ensure that when they are ready they are open to returning as a "Boomerang" employee. This is an extremely valuable opportunity for every Talent Acquisition team. Beyond the added pool of great candidates that they constitute, former employees can unlock value on multiple levels for the company.
Table of Contents
The Value of Former Employees
Tracking Alumni with Beamery
5 Ways to Use Beamery to Engage with Former Employees


The Value of Former Employees
Reducing Hiring Risk
These previous employees are known to you and you are known to them . They already understand your company and its culture and processes, and are likely to hit the ground running with a lower on-boarding cost.
Even better, they often bring newly acquired skills and perspective to the team, and have a positive impact on their colleagues. It does wonders for retention to see someone choose to return to the organization after having experienced what the external market had to offer.
Leveraging Former Employees' Networks for Referrals
Even if previous employees do not return to the company themselves, they can be incredible advocates for your business and be a steady source of recommended talent. Most organizations have some form of employee referral program in place, but it's almost always limited to current employees.
Managed in the right way, a strong alumni network can vastly expand your access to top talent. Former employees who left on positive terms and with whom you stay in touch are much more likely to encourage others to join your company.
Attracting and Securing New Hires
Showcasing what former employees have gone on to do is a powerful narrative for prospective candidates. Part of the strength of some of the most attractive Employer Brands in the world is the number of former employees who struck out to start successful companies after their time there.
To prospective candidates, it means two things: that working at your business sets you up for entrepreneurial success, and that the company cares enough about former employees to keep in touch with them and showcase their experience.
Strengthening your Employer Brand
Social media, content platforms, and most importantly, employer review sites and communities like Glassdoor have made it extremely easy for former employees to describe in detail their professional experience.
Their comments are often perceived as being more honest and objective by potential candidates, and so they are likely to considerably boost your company's reputation.
Maintaining a Great Customer Experience
Virgin Media discovered a few years ago that rejected candidates were costing them $5 million annually. Imagine how much more damage badly managed former employees can do!
A bad exit experience can push an employee to stop using the company's product and advise their circle to follow. Even worse- they might end up working for a client and being responsible for purchasing your company's services. If the relationship was soured when they left, there is a strong chance they will take their contract somewhere else.
Gaining Market Knowledge and Insight
Using data and insight gained from former employees can help supercharge your understanding of why employees leave, where they go, and how you can tempt them back. That's an invaluable source of information which will help you address potential blind spots and drive initiatives to keep your employees happy and your churn low.
Beyond the initial offboarding and exit interview information, some companies also leverage their alumni networks to gain valuable market intelligence and information on industry trends.
A few are even tapping into these networks to test new products or services or conduct market research amongst a network of informed individuals who aren't afraid to give honest and constructive feedback.
Hiring Former Seasonal Workers
The talent your business engages to undertake work won't always be Full Time Employees (FTEs), they can be freelancers, interns, seasonal or temporary workers or interim contractors. In many organizations at any time there can be as many non-FTEs as there are FTEs. Staying in touch with this sizable pool of talent enables you to hire from a class of pre-qualified and trained individuals.
Staying Cost-Effective
For all the above benefits, establishing and maintaining a corporate alumni network and regular communication with previous employees/workers requires relatively little investment. You already have the data and networks, so you don't need the advertising and licence costs associated with sourcing new talent.
With the right technology, you can build scalable programs to engage and nurture large numbers of alumni. Former employees shouldn't end their relationship with your brand when they leave the building; they constitute a big part of your employer footprint and often leave hoping to maintain a connection with the business they are departing.
Tracking your Alumni with Beamery
There are a number of ways to build this network, but integrating your HRIS with Beamery is the easiest way to gain a total view of internal and external talent, to easily manage and take action with external candidates, employees, and alumni all in one place. You'll be able to make more informed hiring decisions by answering questions like: 'Do we need to hire or train for this role?' and 'Can I ramp for this role more quickly with an engaged alumni?'. With the integration between Beamery and your HRIS established, contacts will sync to Beamery with either an INTERNAL or ALUMNI contact type. You can then use this field to action on Recipes, Searches and Filters, and Campaigns. Learn more about how to use this field below. Learn more about connecting your systems here.
5 Ways to Use Beamery to Engage with Former Employees
Hire for Vacancies
High quality data on current and former employees in the Beamery CRM results in Beamery's powerful Skills AI "Suggest" highly relevant talent from thousands of records within your database based on particular skills or attributes, whether they are newly sourced candidates, previous applicants or previous employees. With your HRIS integrated with Beamery and assigning Contact Type is Alumni, you can easily refine your target list and consider whether they might be someone you should approach about a new opportunity.

Leverage Alumni Pools
With Beamery, as well as creating and nurturing talent pools of prospective, new talent, you can easily create talent pools to help you manage communications with your alumni groups. Build these pools with a Recipe that automatically moves contacts based on the field Contact Type is Alumni. These can then be easily filtered by key attributes such as department or skill, by custom fields such as 'Reason for Leaving' or 'Level,' or by activity such as last contacted date.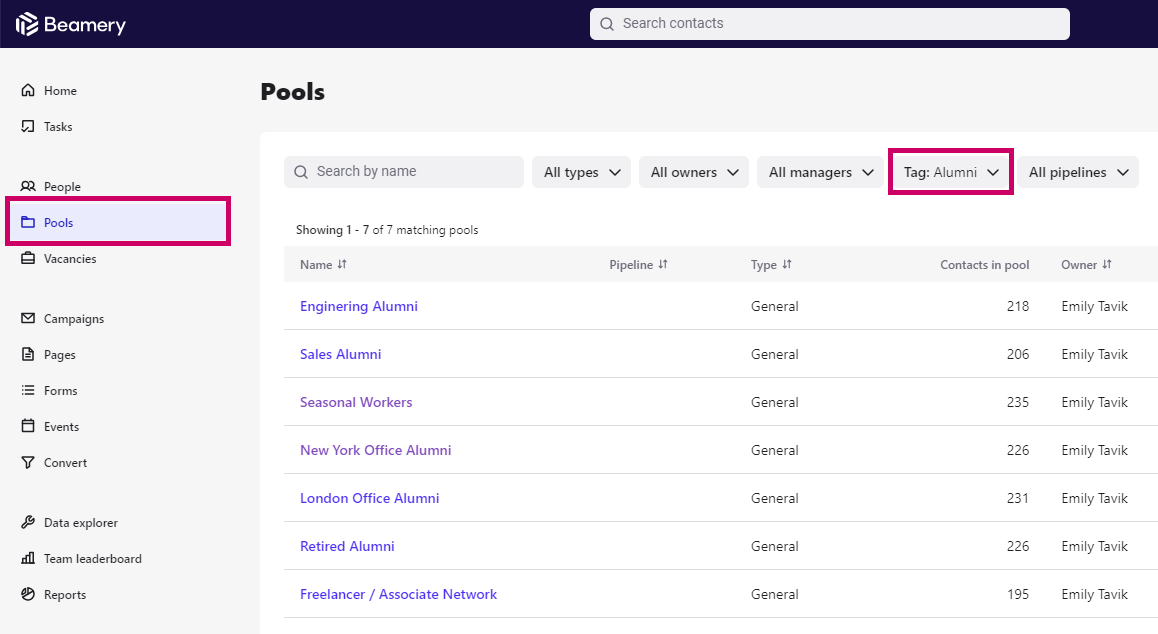 3. Send Personalized Campaigns
By segmenting your Alumni talent, Campaigns enable you to send highly targeted, multi-touchpoint emails to your talent pools and personalize this content with data from your CRM. You can therefore keep your alumni up-to-date with all of the latest news, tap into the network for referrals and approach these prospects at the push of a button.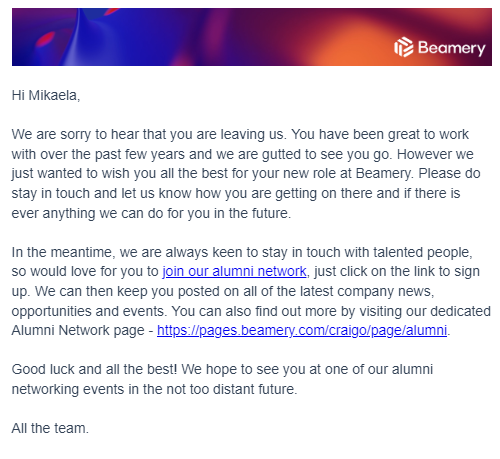 4. Report on Alumni Data
Beamery reporting can give you insight into every aspect of your Alumni networks from data on how many previous employees you have by department, location, which companies are destination organizations for your leavers, engagement levels with your alumni communication campaigns and even pulling aggregated DE&I metrics on those Pools to drive key business decisions. These invaluable insights enable you to make more informed decisions about your HR and talent acquisition strategies. Learn more about using Data Explorer here.
5. Use Bespoke Landing Pages to Keep Your Alumni Informed and Engaged.
With Beamery pages you can create and update content aimed at your Alumni networks in minutes.