Beamery's AI allows users to discover qualified candidates quickly and automate your workflows and reduces your overall time to hire. Read more about Beamery's AI here.
Please note: this page is in reference to a Beamery feature in Early Access. Your organization may not yet have access to this feature. Please speak with your CSM if you have any questions.
Vacancy Page Detail
Within Vacancies, Beamery's AI can be found in 1) Match Scores, 2) Vacancy Calibration, and 3) Suggested Contacts. Read more about each of these functions below.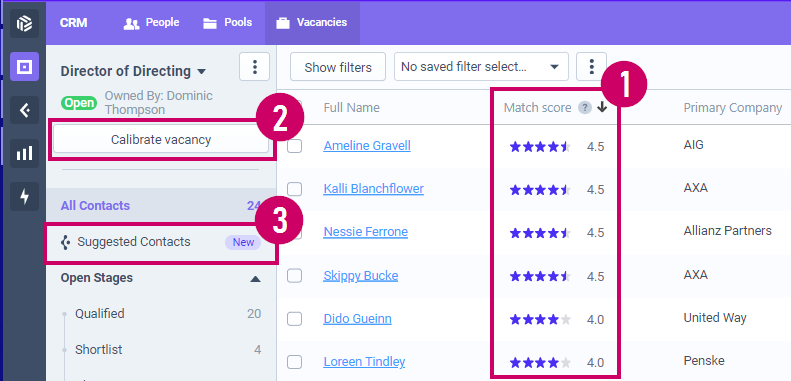 1. Match Score
Beamery uses AI to assign a Match Score to all candidates within your Vacancies. Match Scores are given from 0-5 where 5 is an excellent fit and 0 is a poor fit. Hover over the match score of each candidate to learn more about how the match score was calculated.

Title - how close does the candidate's current job title match the Vacancy title.
Seniority - how closely does the candidate's seniority match the seniority in the Vacancy title.
Skills - how relevant are the candidate's skills to the skills required for the Vacancy title.
2. Vacancy Calibration
Beamery's AI uses a Vacancy's title to generate a job role. This job role is used in generating march scores. There may be times that a Vacancy's title includes words or abbreviations that the AI is not yet able to recognize. Or, you may have a Vacancy title that is not in English. In these cases, you can calibrate the job role by clicking Calibrate Vacancy.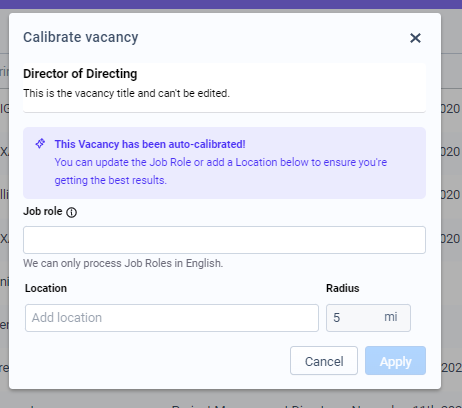 Here, you can see that the vacancy has been calibrated automatically. Update the job role to find even better matches. This is also where you can filter your suggestion results by adding a location and distance radius. The location filter is optional and not required for Vacancy calibration.
Please be aware that recalibrating the job role in a vacancy may take up to 24 hours, whereas the location filter is instant. You will receive an email when the new results are ready.
3. Suggested Contacts
Source your database first! Just as Beamery delivers a Match Score to candidates within your Vacancies, we can also make suggestions about other contacts in your database that would be excellent fits for a specific Vacancy.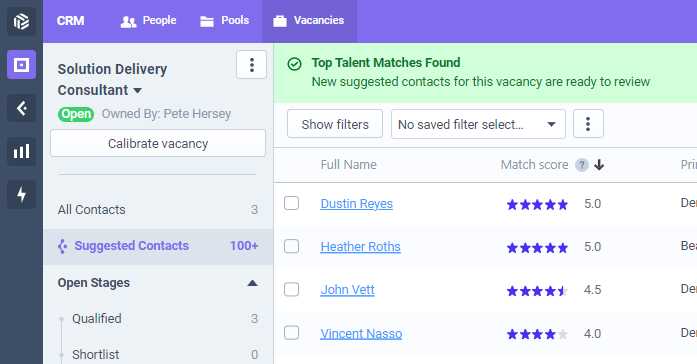 Within a Vacancy, click on Suggested Contacts to see a list of contacts, ranked by best fit, and add them to your Vacancy. Hover over the Match Score to find out more about how they were ranked.
To add these contacts to your Vacancy, tick the boxes next to your selections and then select Bulk Actions > Add to Vacancy. Then select the vacancy you wish to add those contacts to. Click Add to Vacancy.