Smart mobile devices are everywhere: candidates can usually pick up emails wherever they happen to be. However, email isn't always the best channel of communication for a quick one-to-one check-in or confirmation. With Beamery SMS Messaging, you can use the right channel for those quick interactions, and keep a complete record of them attached to the candidate profile.
Beamery SMS Messaging allows you to message candidates on a one-to-one basis via their Beamery profile. This makes it easier to engage with candidates using their preferred channel, improving their experience, and increasing response rates.
Introducing a new communication channel as part of your talent acquisition practices may mean that your consent capture statements are no longer fully reflective of the ways that you intend to engage with candidates. We recommend that you consult with your legal team to ensure that the consent you gather meets your needs and the regulations of the territories in which you operate.
---
Table of Contents
Starting an SMS Message from the Beamery Profile
Composing an SMS Message
Sending an SMS Message
Phone Number Format
Virtual Phone Number
Message Allowance and Credits
SMS Reply Notifications
Tracking SMS Messages on Profile Timelines
Opting Out of SMS Messaging
---
Starting an SMS Message from a Beamery Profile
Users who have been enabled for Beamery SMS Messaging will have a virtual telephone number, allowing them to send SMS messages to candidates via Beamery. These messages and the responses are logged in the candidate timeline, allowing your teams to continue to use the Beamery profile as a comprehensive record of candidate communication.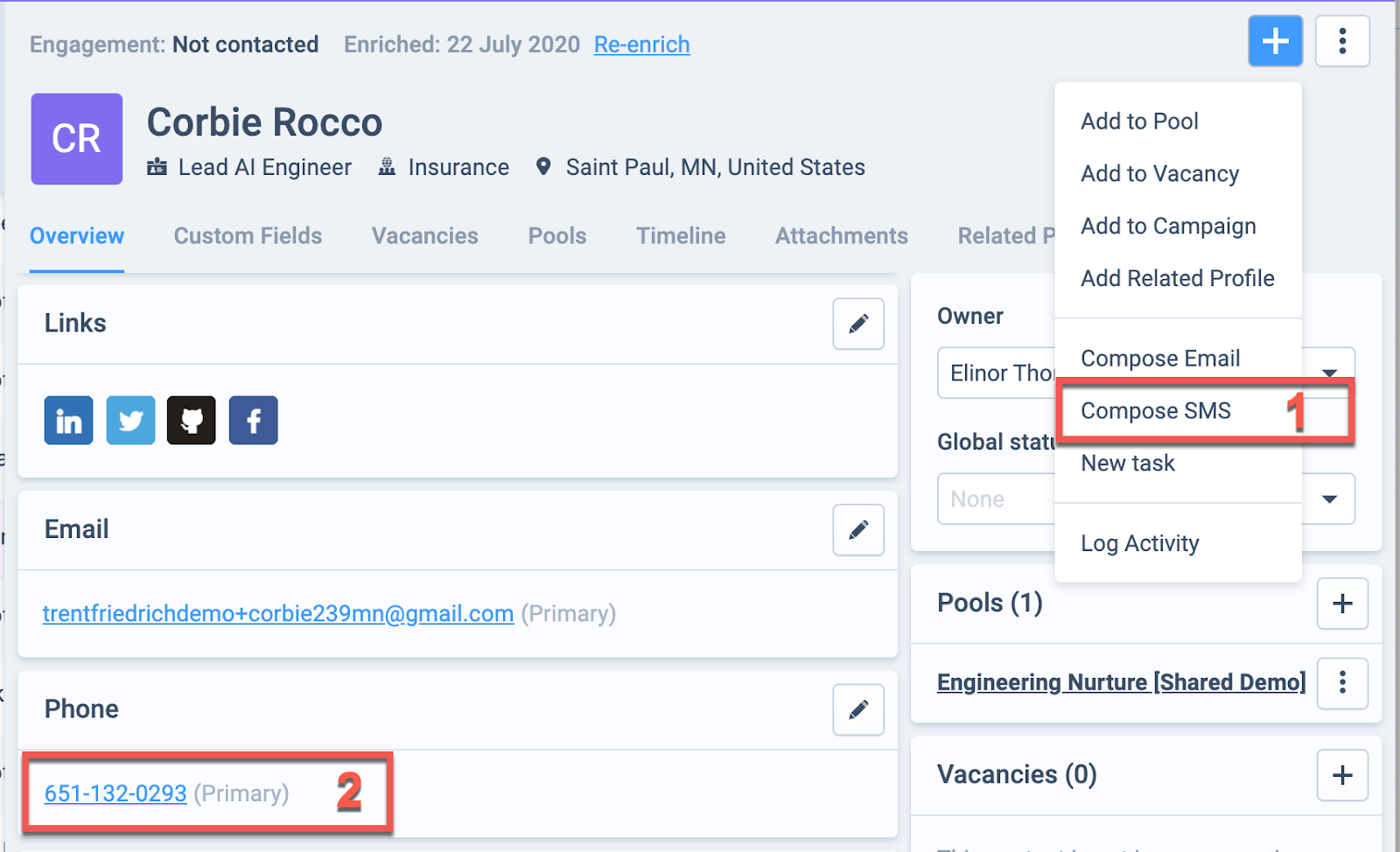 Compose SMS - Click the blue '+' button at the top right-hand corner of a contact profile, and select Compose SMS to begin composing an SMS Message.
Contact Phone Number - You can also click on the contact phone number to begin composing an SMS message to this number.
Can you send Bulk SMS Messages? At this time, no. SMS messages are sent one at a time.
---
Composing an SMS Message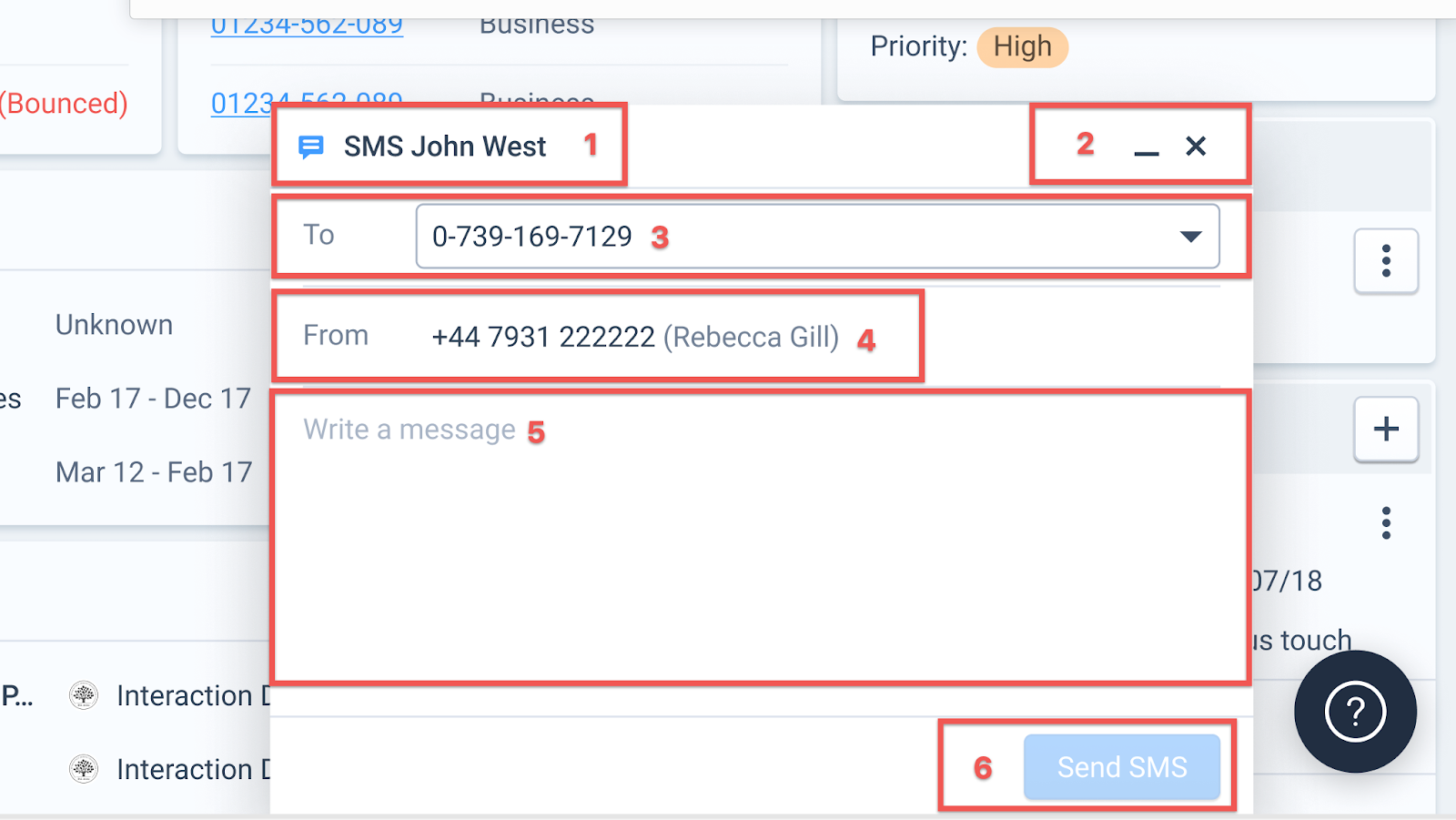 SMS Messaging Modal Title - This will show the name of the contact that the SMS is being sent to. This will also be shown when the modal is minimized, allowing you to easily return to a draft SMS message.
Minimize and Close - Use these icons to minimize the messaging modal (_), or to close it entirely (x). Note that messages will not be saved if the modal is closed, but any drafted messaging will be saved when the modal is minimized.
Recipient - Here, you can see the recipient's phone number, and if the Beamery profile has more than one phone number, you can use this drop-down menu to change the recipient number.
Sender - Here, you can see the number from which the message will be sent, as well as the name of the Beamery user associated with this number.
Message Composition Area - Write your SMS message here. SMS supports plain text messages only, but if you would like to include emojis, they can either be copied and pasted in, or added using a keyboard shortcut. Mac users can use ctrl+cmd+space to choose and insert an emoji, and Windows users can press and hold the Windows button and either the period (.) or semicolon (;) until the emoji picker appears.
Send SMS Button - When you're ready to send your message, click this button.
---
Sending an SMS Message
After clicking 'Send SMS' you will see a confirmation that your message has been sent to the contact. This will disappear after a few seconds. You will then be able to see your message reflected on the candidate's profile timeline.

---
Phone Number Format
In order to send an SMS message, the candidate's phone number must be in the format +(country code) (phone number), for example +1 234 567890. If you get an error message indicating the phone number is invalid, when attempting to send an SMS message, please update the contact's phone number to the correct format, and try sending your message again.
If you're unsure of the country code for a candidate, you can refer to this list of country calling codes.

---
Virtual Phone Number
In order to send SMS messages using Beamery, you will need to have a virtual number set up. Your Beamery Administrator will coordinate this setup with the Beamery team. If you get an error message like this when you attempt to send an SMS, then you don't yet have a virtual number. You'll need to reach out to your administrator to request a virtual number to send SMS in Beamery.



---
Message Allowance and Credits
Your company will have an allowance of SMS credits. Messages sent to or received from US numbers with a +1 country calling code will count as 1 credit. Messages sent to or received from phone numbers with country calling codes from any other country will count as 3 credits each.
You will see the below notification when your company reaches the last 10% of your message allowance. For further information about the number of credits you have left, please reach out to your administrator or Beamery point of contact.

Once your company has reached the limit of it's messaging allowance, you will see this message when attempting to send an SMS message, and your message will not send.

---
SMS Reply Notifications
When a candidate responds to one of your SMS messages, you will receive an email notifying you that you have received a response. In the email notification, you can view the candidate's message, and you can click 'View SMS in Beamery' to be taken to the candidate's Beamery profile, where you can reply to the SMS.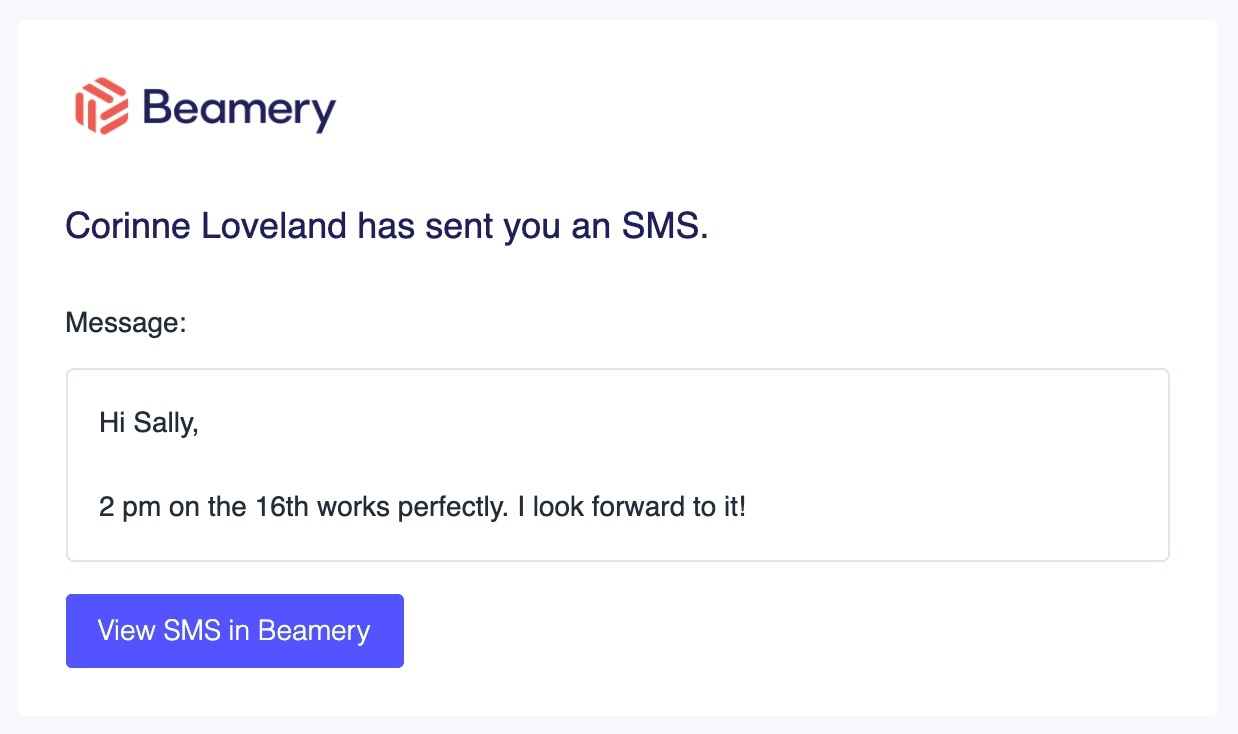 ---
Tracking SMS Messages on Profile Timelines
SMS Messages sent to candidates or received from candidates will be shown on the candidate's profile timeline, just as you are used to seeing campaign or direct email messages. The content of SMS messages will only be visible to all users who can view the candidate's profile, making collaboration simple and easy.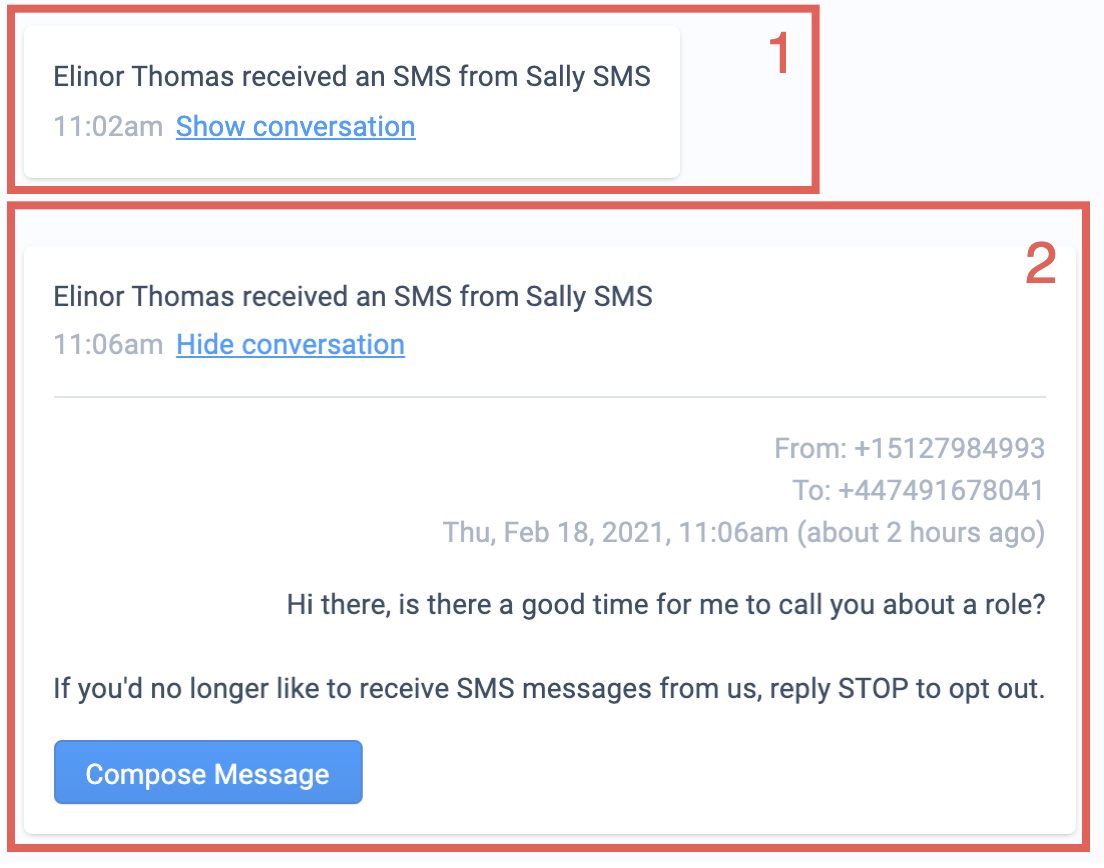 SMS - SMS messages will appear on the candidate's profile timeline, and will be visible to all users who can view the candidate's profile.
Message Thread - Click 'Show Thread' to expand the message thread and show the message content, as well as the option to compose an SMS to this candidate by clicking the 'Reply' button.
---
Opting Out of SMS Messaging
Some candidates may not wish to receive SMS messages from your organization, but may remain happy to receive communications via email. If this is the case, they can reply STOP to any SMS message to opt out of receiving further SMS messages to that phone number from your organization via Beamery.
If a candidate has opted out of SMS messaging, users will not be able to send them SMS messages via Beamery, and will instead see an error message should they attempt to send the candidate an SMS message.

For a more in depth look at managing consent for SMS messaging, check out this article.
---
In Summary…
In summary, SMS Messaging in Beamery allows you to send SMS messages to candidates directly from their Beamery profiles, making informal communication quick and easy. SMS Messaging not only enables you to communicate with candidates via their preferred channel, it also improves their overall experience of the candidate journey, and increases your response rates.
---
Additional Resources
Track Activity and Communication History on a Candidate's Profile Timeline