You can stop candidates in your CRM database from being contacts, either by campaign or direct email, by assigning a Do Not Contact label to a candidate. This will prevent the candidate from receiving any emails, either via campaign or direct message. This includes preventing them from being added to a campaign via bulk action or recipe action.
Note: Within recipe automation, there is also the option to mark a contact as Do Not Campaign or Ok to Campaign. This action will prevent contact from receiving campaigns while continuing to allow them to receive direct messages. This action can only be taken with a recipe and cannot be set manually.
---
How to Label a Candidate Do Not Contact
To assign a Do not contact label to a candidate, click on the candidate's name in your CRM database to open their profile. You can do this in the People tab, within a Pool or vacancy, or through a quick search.
Click on the three dots located at the top right corner of the profile and select Do not contact. The candidate can no longer be added to campaigns or sent a direct email through Beamery. The candidate's engagement status at the top of their profile will reflect that they cannot be contacted.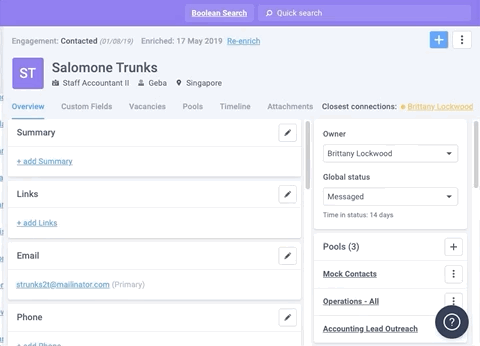 To remove the contact block, simply navigate back to the candidate's profile, select the three dots at the top right of their profile, and select Ok to contact.